There are many web apps like Evernote that people mostly use for saving notes on the go. Today, I will discuss the best alternative to Evernote which is new and just entered this big market. 
People are searching and exploring thousands of different types of content daily on the internet. As internet is a place of wonders and you will surely don't want to miss anything you are interested in. The apps like Evernote and Pocket are usually used by people to make and save notes, images, and etc. on the cloud so they can access them from anywhere anytime. 
There are many great alternatives to these apps but I will discuss a platform that is new and just showing its presence in this great marketplace. So, let me introduce you to "Swipebucket", a new alternative to Evernote and Pocket.
With Swipebucket, you can do more than just making and saving notes. With the Swipebucket chrome extension, you can save and organize screenshots, articles, images, videos, Facebook ads, Kindle highlights, Posts, etc. You can organize these in folders, access them from anywhere, and even share them with others.
Let's discuss Swipebucket more deeply now.
Swipebucket- Best Alternative to Evernote for Copywriters & Markets:
Let's start with a fact- Everyone wants to save everything he/she finds on the internet and is interested in. So, how can you do it easily, quickly, and conveniently?
The answer is Swipebucket which is the new alternative to Evernote. With Swipebucket, you can save and organize everything you find on the internet in one place. So, no more hustle to find and save things in different places. It means you can save your valuable hours which is otherwise not possible.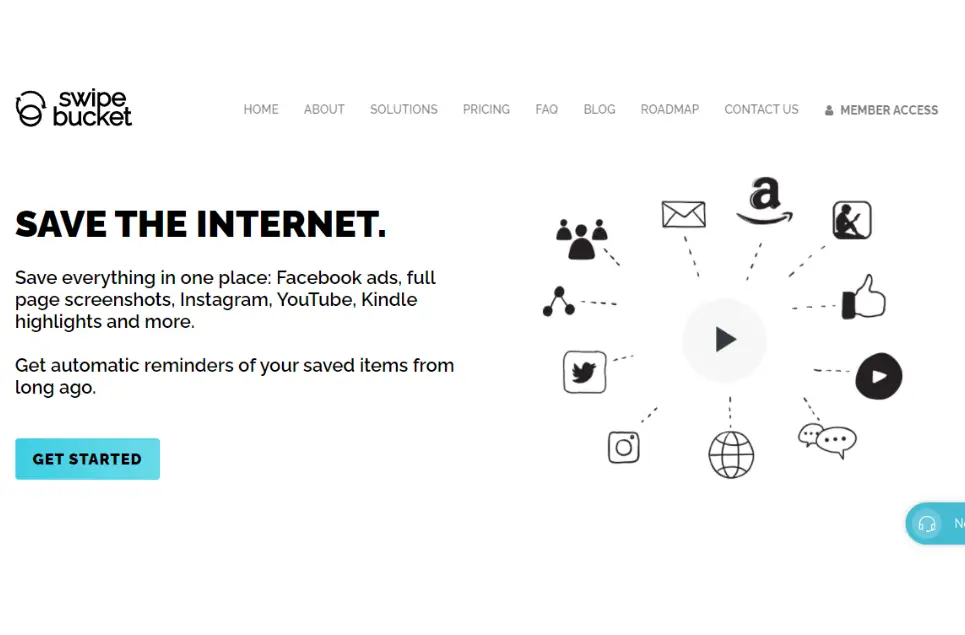 What are the Features of Swipebucket?
There is a huge list of features that can make your life easy. If you are a reader and want to revisit kindle highlights later, don't worry Swipebucket has your back. You can save kindle highlights in organized folders, edit and share them with others. You can also take notes from kindle and can organize Cards in Swipebucket by color so you can access them easily.
Let's list down all the features we are getting with Swipebucket:
Kindle Highlights

Posts

Ads

Highlight Text

Full Page Screenshots

Regional Screenshots

Unlimited Buckets

Add team members

Share buckets and sub-buckets

Collaborative

Star/Bookmark

Tag

Use Short links

Auto Reminder

Chrome Extension

Mobile App available

Share notes
This is a huge library of features that you can use to save your time, space, and resources.
Here, some of the coolest features among the above are Auto Reminder and Mobile Apps. Whenever you save something, the app will send you reminders so you can revisit and check it again. It is a great feature as often we save things and then completely forget. With Auto Reminder, you are not going to miss anything important anymore. 
Chrome Extension is very useful as with one click you can save anything from any website. You can access and control most of the features through the chrome extension so it can save a lot of your precious time. 
Is Swipebucket the Best Time-Saving & Productive Tool for Copywriters & Marketers?
The short answer is "Yes." Swipebucket is the best Evernote alternative for copywriters and marketers. It can save a lot of your time so we can say it is a time-saving tool for productive and professional work.
The tool not only targeting copywriters and marketers but some other professions as well including students, graphic designers, readers, web designers, chefs, and so on. 
If you are a student you need to research and save notes right? Using Swipebucket will allow you to take and save important notes on the go. So, you don't miss anything. 
Now, let's talk about how this tool can help graphic designers, web designers, and chefs. You can save images, videos, and other stuff like that for inspiration. It will allow you to get more ideas and be more creative. In short, we can say that everybody who is using the internet for anything can get benefits from this Swipebucket tool. 
How does Swipebucket Work?
The working of Swipebucket is quite simple. As it is an alternative to Evernote, Pocket, etc. the basic working is almost the same. 
This tool is great for both personal and business purposes and I already discussed above which professions this tool is the best. 
First, you need to install the Swipebucket chrome extension. To get started with Swipebucket, you will see the Swipebucket icon against every content you want to swipe on like Facebook, YouTube, Instagram, Web Browser, Twitter, Whatsapp, etc. Before swiping it, you can choose a bucket/category, add tags and notes so you can access it later easily, and keep your content well-organized. Once, you click on the icon, it will save in Swipebucket for you.
Once you save anything, you will save daily reminders on your registered email. So, you will never forget to come back and check your saved content including images, videos, posts, ads, etc.
Key Highlights of Swipebucket:
Some of the key highlights of Swipebucket are the following:
Save everything on the internet including Screenshots, ads, kindle highlights, etc.

Organized swiped items with buckets, sub-buckets, bookmarks, tags.

Get Daily Email Reminders.

The best alternative to Evernote and Pocket.

Best for Markets, copywriters, readers, designers, and anyone who wants to save and organize information online.

Three Plans are available: Solo & Duo, Small Business, and Big Business. You can switch between monthly or annually pricing systems. The annual plan will give you some discount. The yearly plan pricing is as follows:

Solo & Duo: $120/Year

Small Business: $360/Year

Big Business: $1068/Year
Swipebucket Deal on Appsumo:
The actual pricing is very expensive on the Swipebucket website. The pricing above is of the yearly plan and monthly plan even more expensive. So, it does not make sense right? Here, appsumo has a solution for you.
You can get this Swipebucket tool which is an alternative to Evernote and comes with a lot of features from appsumo at a very low price and that too is a lifetime deal. That means no monthly or yearly charges. 
Appsumo Deal Terms:
The appsumo deal terms are the following:
Lifetime Access to Swipebucket Big Business Plan

No Codes- just choose the plan that is right for you

Activate your license within 60 days of your purchase

All future Big Business Plan Updates Included

Ability to upgrade or downgrade among 4 license tiers

GDPR Compliant

60 Days Money Back Guarantee by Appsumo
Features:
The Features included are the following:
Unlimited Notes and Social Saves

Unlimited Buckets, sub-buckets, and tags

Unlimited Kindle Highlights saves

Unlimited highlight and text save

Save Regional and full-page screenshots.

Bookmark/star and tag items

Chrome Extension

Daily Reminders

Share with anyone

Mobile apps for both android and IOS
Swipebucket Pricing on Appsumo:
Remember, you will get a Big Business plan for $1068/year if you purchase from the Swipebucket website. Let's check out the same Big Business plan pricing here and check the difference. There are four license tiers available so you can choose which suits you best.
| | | | |
| --- | --- | --- | --- |
| License Tier 1 | License Tier 2 | License Tier 3 | License Tier 4 |
| One Time Purchase/Lifetime Deal | One Time Purchase/Lifetime Deal | One Time Purchase/Lifetime Deal | One Time Purchase/Lifetime Deal |
| All Features above included | All Features above included | All Features above included | All Features above included |
| All Big Business plan features | All Big Business plan features | All Big Business plan features | All Big Business plan features |
| 10 Teammates | 25 Teammates | 50 Teammates | Unlimited Teammates |
| 100GB Storage | 200GB Storage | Unlimited Storage | Unlimited Storage |
| $59| $1068 | $129| $2028 | $299| $2788 | $399| $3978 |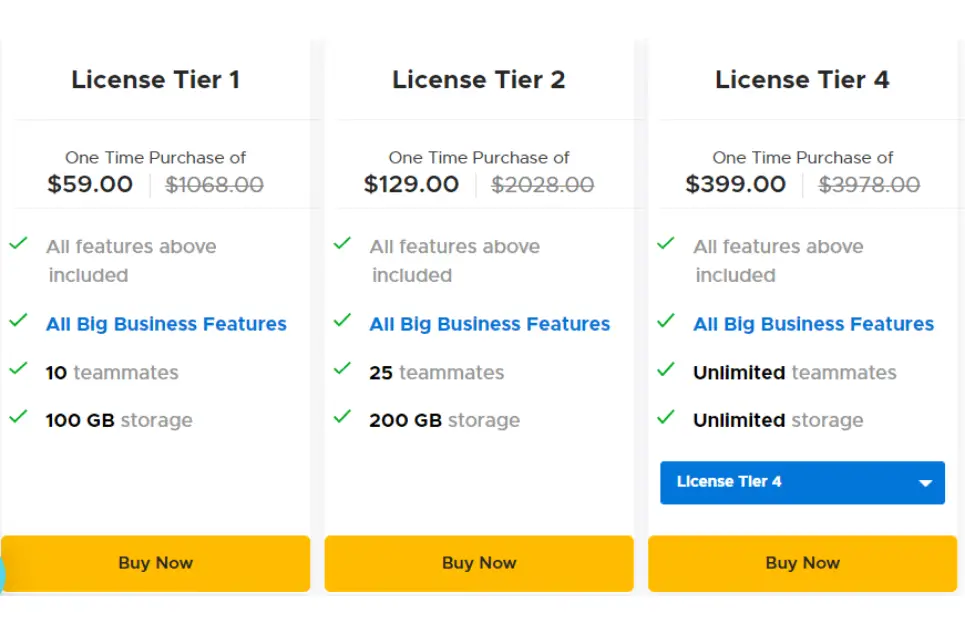 If you want to buy any of these license tiers you can do that by clicking on the following button. It will give me some commission and an excellent discount for you. So, it's a win-win situation for both of us????.
But wait, what about kids? They are not going to use this tool right, so how they can learn, have fun, and do productive things at the same time? There must be something for them as well right? Check out the best educational apps for kids. 
Related Questions:
What is the best note-taking app other than Swipebucket?
There are many apps for note-taking. Some of them are:
Microsoft 365

Evernote

Ulysses

Bear

Google Keep
Which is better Notion or OneNote?
If you are looking for an all-rounder app that can do different things then Notion is good otherwise if the only purpose is note-taking and organizing then go with OneNote.
What is the best app for productivity?
There are many great apps including:
Hive

Todoist

Google Docs

Calendly

Hootsuite

Lass Pass