Learning is a process that continues throughout a person's life. Learning becomes easy as there are many best online learning platforms. Learning also has different types. Like as a student, your learning is different, but as a professional, your learning will be different. 
Today, we will talk about the best online learning platforms that are helpful for both students and professionals in their careers. These platforms have Thousands of courses, and even some are offering courses with certificates from well-recognized institutions and universities all over the world. 
The 5 Best Online Learning Platforms that we are going to discuss are the following:
1- Udemy
2- Coursera
3- LinkedIn Learning
4- Skillshare
5- Udacity
Let's discuss them all one by one.
5 Best Online Learning Platforms: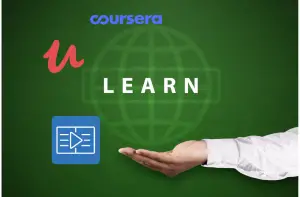 1- Udemy:
Udemy is the first learning platform on our list of the 5 Best online learning platforms. Udemy is one of the biggest online learning platforms. If we say Udemy as Amazon of Online Learning, then we won't be much wrong. 
You can find all types of courses on this platform. Whether you are looking for an android app development course or want to take yoga lessons, you can find them all on Udemy. One of the best things is that you will also get Udemy's own certificates when you complete a Paid Course on Udemy. 
Udemy is providing opportunities in two ways. It is providing opportunities for students and professionals to learn new skills and start their new career. And at the same time, Udemy is also offering a platform to earn passive income for instructors. If you are an expert in anything whether it's diet lessons or graphic designing, you just need to sign up as an instructor, create high-quality videos, and upload them on Udemy. Whenever someone buys your course, you will earn.
As Udemy is one of the best and biggest platforms for Online Courses, it is also one of the cheapest learning platforms. You can become a hero to zero in any field by spending just $10(Minimum). Most of the time there are some sales going on on the Udemy platform so you can purchase your favorite courses at such low prices.
2- Coursera:
The second platform on our list of the 5 best online learning platforms is "Coursera". It is also one of the best platforms for learning. Unlike Udemy, you can get certificates from well-recognized universities from all over the world.
Some institutions and universities are offering their specialization courses and degrees on Coursera. But as Udemy offering flexible learning, there is not like that. You need to complete the main course in 4-6 weeks, and there are also university degrees that you can complete in 1-3 years. 
Time depends on your chosen course or degree. As we are talking about well-recognized universities and institutes, we need to understand that this is also one of the expensive platforms as compared to Udemy. For Main Courses that will take 4-6 weeks to complete, you have to pay a monthly subscription of $29-$99 depending on the course.
There is also a specialization course if you are thinking to master some particular skill. There is a monthly fee of $39-$79 depending on your specialization. For degrees, you need to bear the cost of $15 to $25000 depending on the degree. 
But one thing is sure that you won't regret later as you will get some real-world project experience after completing the degrees and courses on Coursera. 
3- LinkedIn Learning:
Linkedin Learning also is known as Lynda is third on our list. LinkedIn Learning is an excellent online learning platform, especially for business professionals. As everyone knows that LinkedIn is a social media network especially designed for businesses, and so is LinkedIn Learning.
Professionals can do courses related to their skill and career and can level up their skill level. It is said that Lynda is specially created for business professionals, but anyone can join and learn after paying a subscription fee.
You can find all types of courses on LinkedIn Learning. Web development, Project Management, and so on. There is also a subscription fee for LinkedIn Learning. You can get this premium membership for $29.99 per month. And if you choose an annual offer then $24 per month. You will also get a certificate that you can show on your LinkedIn Profile.
4- Skillshare:
The second last platform on our list of the 5 best online learning platforms is "Skillshare". If we say that it is the main competitor of Udemy, then we will not wrong as almost all things are similar to what we discussed about Udemy. 
The interesting thing is most of the instructors are selling the same course on Udemy as well as on Skillshare. So, single content creation allows them to do business on two platforms at a time. Skillshare pays $10 for paid membership referrals, and monthly income depends on each minute of content watched by students.
5- Udacity:
The last learning platform on our today's list of the 5 best online learning platforms is "Udacity". It is particularly focused on Technology related courses like Artificial Intelligence, App Development, Networking, and many more. 
There are instructors from well-recognized universities and companies like Google. You can find both free and paid courses on Udacity. If you are a beginner and you want to learn mobile app development then just simply sign up and enroll in a beginner course free of cost and you will find one of the best instructors and the teaching method is so simple.
There are also Nanodegree programs that are paid courses and expensive as well. But worth it as you get training from industry experts.
Conclusion:
So, that is the list of our 5 best online learning platforms. The list does not end here as there are many more online learning platforms that we will explore in the future. If you are a beginner, don't have much savings, and want to learn something quality content that you can go to Udemy. But that's our choice and assumption. You need to choose a platform according to your requirements, budget, and skill level.
We have also listed the 5 best full-stack developer courses. You can check it out if you want to explore some of the best Udemy courses for full-stack web development.
Comment below and let us know which Online Learning Platform is your favorite one?