Are you looking for a fun and challenging way to pass the time? Which is the better game than PUBG Mobile to challenge yourself? This article will answer these and many other questions.
Woodoku is an innovative new puzzle game that can be played on PCs, mobile phones, and tablets. It blends elements of classic wood block puzzles with more modern gaming mechanics, providing a unique and exciting experience for users of all ages.
In this article, I'll discuss one of the best wood block puzzle games, named woodoku, that will allow users to not only enjoy their past time but will also help them in improving and updating their problem-solving skills.
Playing woodoku comes with many benefits as well as some cons. And I'll discuss both of them. I'll also explore how and from where people can download this woody puzzle easily.
But, first of all, let's find out what woodoku is and how to play it. So, if you're also looking for an exciting and challenging puzzle game, or want to know the benefits of playing woodoku puzzle gameplay, then keep reading this guide!
What is the Woodoku?
Woodoku is a unique puzzle game combining the challenge of a sudoku grid with the relaxing atmosphere of a wood block puzzle.
Players must strategically place wood blocks on the 9×9 sudoku board to fill rows, columns, or squares, clearing the blocks from the game in the process. The game is easy to learn but difficult to master, making it a great way to relax and train your brain.
Players can take their time and enjoy the peaceful wood block puzzle as they aim to increase their IQ and beat their highest score.
How to Play Woodoku Online?
Woodoku is a wood block puzzle game that is easy to learn but challenging to master. To play, simply drag wooden blocks onto the wooden grid. As you progress, you'll need to fill a row, column, or square to clear wood blocks from the board.
To earn combo points, you should try to clear multiple rows, regions, or squares of wood blocks for a high score and for going to higher levels! You can also Merge wood blocks on every turn to earn Streak points!
The goal is to earn as many points as you can to beat your highest score and clear wood blocks. The best thing is that the gameplay is playable offline as well. So, get ready for a woody good time by playing this woody puzzle!
Features
Woodoku is a fun and relaxing wood block puzzle game. With beautiful graphics, realistic wood tile design, and satisfying sound effects, this classic game is sure to please.
Players will experience an enjoyable tactile experience as they move blocks around without any pressure or time limits.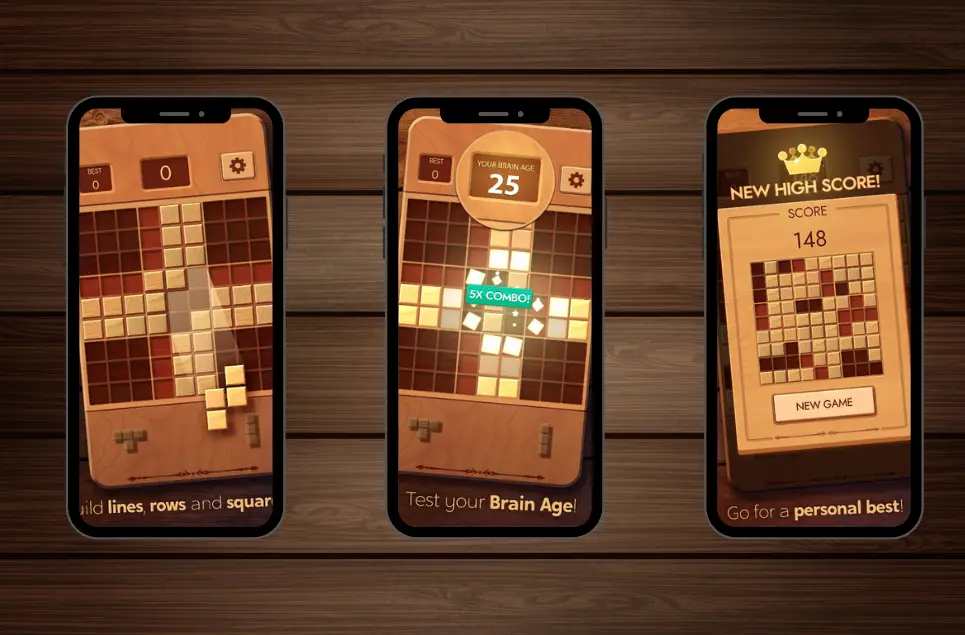 With its small size, the game won't take up space on your device, and it's playable offline so that you can enjoy it anytime, anywhere.
Plus, the game offers hundreds of new block puzzles every week!
4 Benefits of Woodoku
Improves Problem-Solving Skills
Woodoku is an innovative wood block puzzle game that has been gaining popularity over the last few years. The game encourages players to think strategically as they attempt to earn levels within a time limit by placing wooden blocks in unique patterns on the board.
With its challenge-based structure, the game can help improve problem-solving skills among players of all ages and skill levels.
Cultivates Patience and Strategy
The objective to play Woodoku online is to arrange nine blocks in a specific pattern within the confines of the board. To play, one must move the blocks around strategically in order to match them up with different shapes shown on the edges of the board.
As each level progresses, the gameplay becomes more difficult for users to find solutions without running out of moves or exceeding their allotted time limit. This encourages users to think carefully before making their next move and cultivates great exercise in patience and strategy.
Players are rewarded with points every time they complete a level successfully; higher levels earn much more points than lower levels do.
Enhances Critical Thinking
As Woodoku is a new block puzzle game combining the classic wooden blocks of sudoku with an innovative twist, it provides users with multiple levels of challenge and encourages them to think critically and develop problem-solving skills. This new block game, available for both Apple Mac, and mobile phones, offers up a stimulating puzzle experience.
Increases Cognitive Abilities
Playing Woodoku enhances cognitive abilities. As players progress in the game, they must think strategically in order to choose the correct pieces to fit into the puzzle. This helps increase players' ability to think ahead, plan ahead, and stay focused on the task at hand.
Additionally, the game encourages creative thinking, as players can come up with new and innovative solutions to puzzles. As a result, players can gain a better understanding of their problem-solving skills and develop more efficient strategies for solving puzzles.
3 Drawbacks of Woodoku
Difficult for Beginners
The game requires you to use your mind to place blocks and get points on a grid-like screen. Despite its many advantages, there are some drawbacks of the game that can make it difficult for beginners to succeed.
Firstly, the rules and gameplay can be complex and hard to understand at first. This means that it can take some time for new players to learn how the game works and achieve success.
Secondly, due to the nature of the game's mechanics, there is no possibility of luck or guessing involved; instead, it all comes down to skill and strategy. As such, even experienced players might struggle at times as they try to figure out a way around certain puzzles or tricky situations.
Bit Slow-Paced
The premise of the game is simple—you use pieces in various shapes and sizes to get points and create a high score on each level. The more pieces you use, the higher your score will be.
Unfortunately, this means that some levels can take a long time to complete due to the sheer number of pieces involved. Additionally, if you make an incorrect move or two in rows or columns, it can significantly slow down your progress as well.

Furthermore, there can be frequent mobile ads during gameplay which can further impede your progress as you wait for them to end before continuing with your game.
Requires Much Patience
Playing block puzzle games usually requires a lot of patience, and to play woodoku, you need the same. Players must devote at least one hour per week to practicing their moves with the wood blocks on the screen in order to improve their skills.
This patience can often be difficult for those who want immediate gratification from their gaming activities and would rather receive rewards quickly instead of waiting for them over time through ingrained learning.
As a result, the game may not be suitable or desirable for everyone since it does require significant dedication in order to progress within the game and obtain higher levels of skill and understanding.
Conclusion
Overall, Woodoku is a great way to enhance problem-solving skills, cultivate patience, and sharpen critical thinking abilities. Despite its drawbacks, it is an enjoyable and worthwhile app that can help you improve your cognitive abilities.
FAQs
Can Woodoku be Played Offline?
Yes, users can play the woodoku puzzle game offline.
How to Download Woodoku for Android and IOS?
As I mentioned above, the game is a realistic wood tile design puzzle, and Tripledot Studios is the developer of this amazing game. The Tripledot studios ensure that the game remains free to install on both Android and Apple. However, there is an in-app purchase option available.
So, to get some more features and to disable ads, you can opt-in for the optional purchase. You can download woodoku for Android from the Google Play Store. You can also download woodoku on the App Store!
How to Download Woodoku on PC?
Woodoku on PC is an exciting and immersive puzzle game for all lovers of sudoku and block puzzles. With clear graphics, sound effects, and easy-to-use controls, the game provides endless hours of fun and challenge.
With BlueStacks, you can experience the full enjoyment of the game on your PC or Mac and take your skills to the next level. Download Woodoku on PC today and join the millions of players who have already discovered its unique appeal and enjoying the tactile game experience.
Why Use MEMU for Woodoku?
Memu is a powerful and popular Android emulator for PC. It is used to run Woodoku, one of the most popular puzzle games available on the Google Play Store. With Memu, players can enjoy all the features that the game has to offer on a big screen.