Social media graphics are the most important thing now if you are a social media influencer, celebrity, brand, or any individual. Billions of people are on social media platforms, and the number is always growing every day. In the past, the text is mostly used to convey your message on social media. But now, time changed, and so just social media.
Social media graphics are considered very important for creating engaging social media posts. It is a fact that people now are attracting more towards some visual post than just a written text. If you are still a text posts person, then you need to change because it will not work now. Especially for new users, they have to create social media graphics posts to get some engagement on posts and possibly some followers.
But the questions are how you can create social media graphics posts that can really help you? And do you need to be Adobe photoshop expert or need to have some knowledge to do graphic designing? Well, the simple and clear answer is big "No". You actually do not need to have any knowledge of Graphic designing or Adobe Photoshop.
Then the next question that can come to your mind is that if Adobe Photoshop knowledge is not required, which is how to use tools, then how you can create and design attractive social media posts? Well, you will find the answer if you read this article completely. 
Adobe Photoshop is the most popular traditional software by Adobe for Graphic Design. But to use this software, you need to have some knowledge about its tools. But don't worry as we don't longer need to have Photoshop skills. There are some apps/software that can make your life easy.
There are so many benefits of using apps that we are going to discuss below. One of the benefits is that since the apps we will discuss soon are cloud-based, which means your own desktop, laptop, and mobile storage will not be used. Everything will be stored on software servers, and you can access them from anywhere and anytime. The next benefit is that you don't need to have any knowledge about graphics designing. These are drag and drop platforms, and there are also templates available so you can use them to create your own social media graphics post. 
8 Best Apps to create Social Media Graphics:
We think we have sketched the background well and now is the time to reveal the list of 7 best apps that you can use to create social media graphics. 
Canva

Over

PiktoChart

Skitch

QoutesCover

PicMonkey

Fotor

Pixlr
Canva:
Canva is the most popular and easy to use cloud-based app that you can use to create stunning social media graphics for any popular social media platform. You can not only design posts, but there are also many popular features that Canva offers.
You can design Resume, brochures, business cards, infographics, YouTube channel art, Logos, YouTube banners, Website banners, Thumbnails, posters, flyers, DVD Cover and this list will not come to an end. There are so many features at one platform that you don't need to go to any other platform. 
There are tons of free and paid templates, icons, photos, shapes, animations, and even videos. You can choose anything according to your requirements. There is a free account as well as a paid one. So free account has all the features that paid one has, but there is a limitation in templates, photos, shapes, icons, and so on, Although there is free stuff as well.
So you can start with a free account and if you feel that you should upgrade to Pro account. With just free clicks, you can create stunning high-quality social media graphics, and you can use them on any social media platform like Facebook, Instagram, Twitter, and so on. 
There is also a benefit that you can also provide social media graphics service on freelancing platforms like Fiverr, Upwork, and so on. In this way, you can also earn money, and there is a lot of demand for this service. There is Canva mobile app also available so you can create your designs using your phone within 2 minutes. 

MadewithOver:
MadewithOver is next in our best social media graphics app list. This is also a cloud-based platform and is also available for android and IOS. Over is used to create professional ads, branded content, and remarkable stories within minutes. 
You can make stunning posts using text, background colors, photos, and then post them to your social media platform. With its android and IOS app, you can make your designs anywhere and any time. You just need your phone and a stable internet connection.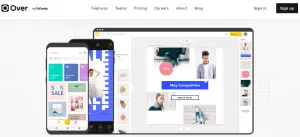 PiktoChart:
PiktoChart is another social media graphics tool. With this tool, you can create attractive posts, presentations, reports, infographics, and prints. You can transform your words into visual forms. So it looks more attractive and hence more engagement. 
You can also bring your team members to this platform as well, so all the changes made by any of your team members will be visible for anyone within your team. There are also tons of Royalty-free assets that you can use for social media graphics.
There is a free account as well with limited functions, and if you want to you all premium features and assets, then you need to upgrade your package. 
Skitch:
Skitch is the next social media graphics tool. But this tool is different from others that we discussed above. It is Evernote Product which is used to make notes on webpages, markup photos, and point our locations on the map. 
There are no fonts, templates, or attractive backgrounds in Skitch. It is basically used to make instant notes while browsing something, sketch images on webpages. This tool is great for educational purposes. For example, if you want to teach something, you can just draw sketches to highlight something.

QuotesCover:
If you want to create stunning Quotes for social media graphics, then QuotesCover is the best tool for you. Designing social media Quotes using QuotesCover is as simple as learning the English Alphabet. 
You just need to put your quote, select background whether you want a plain background or want to add a picture, and that's all. Your Quote has been designed.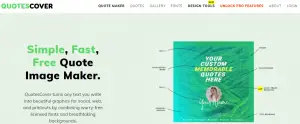 PicMonkey:
PicMonkey is our next tool in the social media graphics apps list. You can create images for Facebook, Instagram, YouTube, and so on. You can create a collage by adding your images and using pre-made templates in minutes.
You can then download and save your images on your computer so you can use them on your social media platforms. With the images created for Facebook and Instagram by PicMonkey, you can increase engagement on your posts.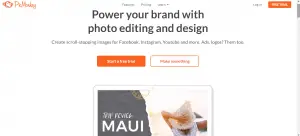 Fotor:
Fotor is an online photo editor as well as a graphic design tool. For creating posters and covers for Instagram, YouTube, Facebook, and other platforms, there are thousands of social templates accessible. 
On Fotor, there are far more situation templates than thumbnails, channel art, posters, covers, and stories. Fotor makes it simple to generate social media images. You can also remove background from images and retouch them.
With Fotor's graphic designing tool, you can make the desired social design images in minutes by opening the relevant preset templates, dragging and dropping elements, uploading, and selecting the background you like.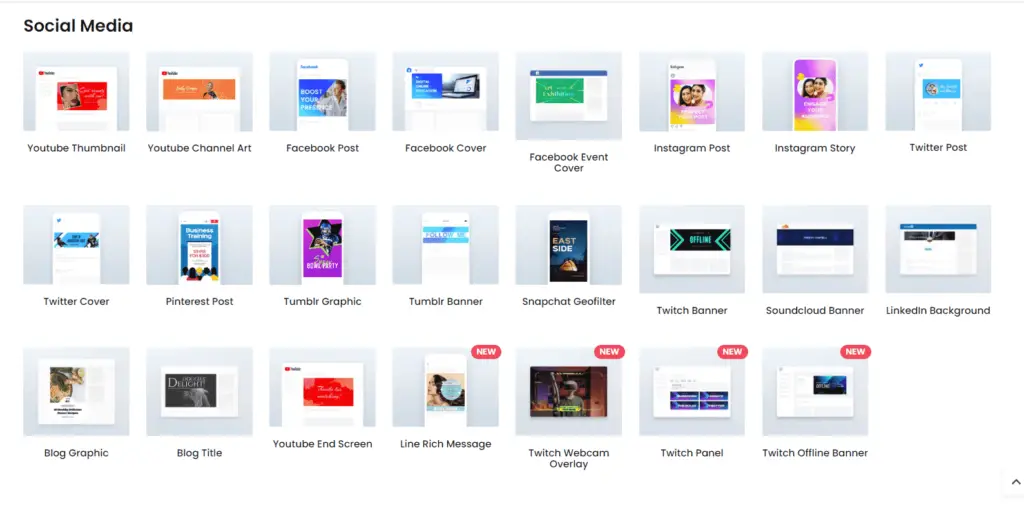 Pixlr:
Pixlr is the last software but not least on our list of social media graphics apps that look much similar to Adobe photoshop but much easier to use than Photoshop. You can edit your images to create stunning social media graphics using Pixlr AI integrated technology.
One of the highlighting features of this tool is that after creating your photos, you can then save them in a variety of formats including PSD (Photoshop), PXD, JPED, PNG, WebP, SVG, and many more. There are two types of launchers in Pixlr. One is Advanced Pixlr E, and the second is Playful Pixlr X.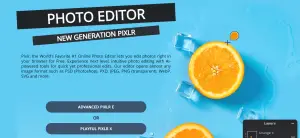 Conclusion:
Above are some of the tools that you can use to create your social media graphics. All the tools are best in the features they are offering. But our recommendation is to use Canva and Pixlr. The reason to use Canva is there are plenty of options to choose from. So whether you want to create presentations, Documents, Resume, or Instagram and Facebook Posts, Canva provides you with everything. The only drawback is that you cannot save your image in PSD format. 
So, if you want to save your photos in PSD and other variety of formats, then you can use Pixlr. You can also provide freelancing services of social media graphics designing. Using these tools, you can create photos for yourself as well as for your clients. 
Comment down below and let us know which is your favorite tool and why. Interested in the latest mobile features? Check our Huawei Nova 7i Review.