RecordCast is an online cloud-based tool that helps you to record videos online. It is developed by a famous technology PearlMountain which makes collage, video editors, record videos software, and designing resources.  
RecordCast is a screen recording tool online that helps you edit your videos from your web browser and make the video recording process quite easy. 
If you want to become an excellent graphic designer without learning and mastering Adobe Photoshop and other hard software, then check out DesignCap, an easy-to-use tool for creating stunning graphics. 
DesignCap allows you to create certain designs and charts that look professional. It can produce presentations, business cards, Facebook ads, logos, and so on with ease.
How To Use RecordCast:
It has a few steps!
Step 1:
After logging in, click the button "Created by record" in the upper left corner. 
Step 2:
After choosing the audio stream for recording, click on the big rounded red button.
Step 3:
From the pop-up menu, you can select the screen to capture. You will be asked for permission while sharing. 
Step 4:
You can switch the screen, record video tutorials, complete the task, and stop the recording!
Step 5:
When the recording has ended, the platform switches to editing screens automatically.
Step 6:
For export in MP4 format, you will have 480P, 720P, and 1080P.
Features:
The top features of RecordCast are as follows!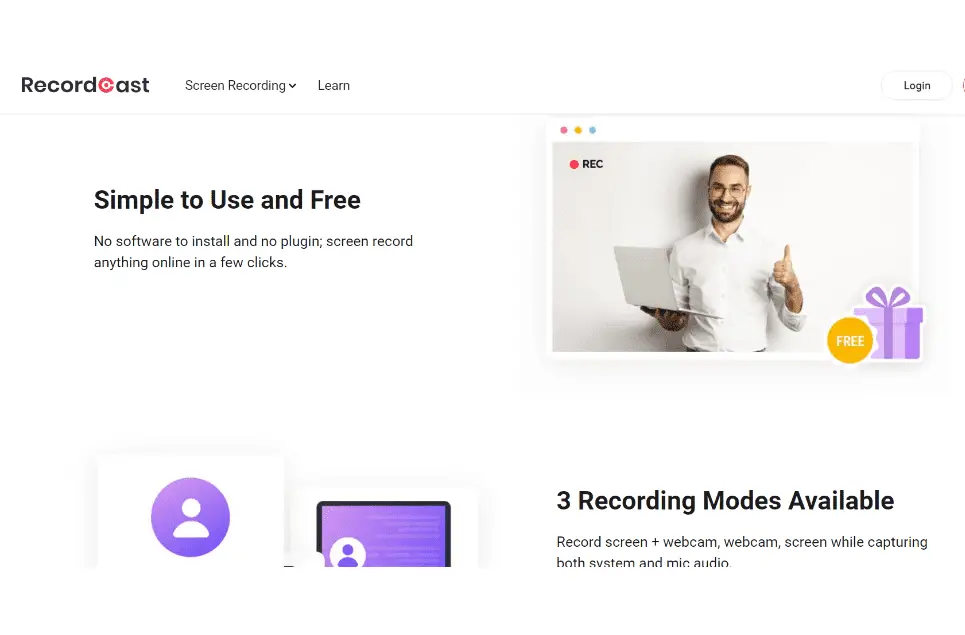 Various Recording Modes:
Other than the feature of screen recording in RecordCast, it also presents webcam recording. You can use that feature as per your requirements. The webcam model is used to deliver lectures online or to communicate with clients. 
Advanced Audio Options:
RecordCast offers you a lot of advanced audio options like system audio, microphone audio, or system and microphone both. You will have total control over your video! That's amazing! Isn't it? You'll be happy by using it!
Numerous Screen Modes:
With RecordCast, you will be able to switch between tabs while recording your screens. It offers an individual tab to record a single browser, an application window to switch between different tabs, and an entire computer screen for numerous apps while recording. 
Video Recording Settings:
You will have these recording options while recording videos. When you need a break you will have the option "Pause the video", to start the video from the same point you will have the "Resume the video" option. You can "Stop the video" whenever you want. 
In-app Video Editing:
With RecordCast you can edit your videos in the browser itself. You will have a lot of unique transitions which make your content attractive. 
External files
Overlays
Solid, gradient, or photo backgrounds
Basic or animated text
Variety of elements
Screen transitions
Image-based or text-based watermark
Video timeline can be shrunk, split, cut or even stretched
Background music
High-quality Video Exports:
You can download videos in MP4 and GIF formats with RecordCast. The free plan provides a maximum export quality of 480P. On the other hand, premium plans offer the export quality of 720P or 1080P. 
RecordCast Best Suited For:
Freelancers
Individuals
Small businesses
YouTubers
Alternatives:
Screencast-o-Matic
ScreenApp.io
Pros:
Top-quality exports
Provide free plan
No requirement of downloading apps
Capturing the audio
Easy to use
Minimal interface
Record presentations 
Cons:
The video editor contains bugs sometimes
Least customization for now
Slow export
No troubleshooting
Pricing:
RecordCast comes up with these pricing plans. Let's discuss it!
Free Plan:
Free $0
Recording limit of 5 minutes
12 number projects allowed
480P video quality
No custom watermark
Premium Plan:
$3.99
Recording limit of 30 minutes
Unlimited number of projects allowed
720P and 1080P video quality
It has a custom watermark
Conclusion:
So, do you love to catch the exercises or activities on your screen? With multiple highlights, you will be able to discover a ton of online screen recorders. RecordCast is an online screen recorder that records videos for free! 
You will be comfortable using it as it has no irritating restrictions. It is a completely online program that records videos on your screen. The online screen recorder is available for many browsers like Google Chrome, Mozilla Firefox, Edge, Apple's Safari, etc. Amazing! I'm sure you will enjoy it! 
Disclaimer: Some of the links on our site may earn us a commission if you make a purchase through them. Our recommendations are always based on our genuine belief in the product's quality and suitability. Your trust and satisfaction are our top priorities. Thank you for your support!