DesignCap is a graphic design toolkit that allows you to create certain designs and charts that look professional. It is an online graphic design tool that is able to produce presentations, business cards, Facebook ads, logos, and so on with ease. 
If you have questions like how to make graphics for social media? or how to get graph design ideas? Then stay here! DesignCap helps you to create a graph design program without harsh efforts and as quickly as possible. 
If you are a freelancer, content creator, social media marketer, marketer, or business owner and want to create stunning and engaging short videos for your website or ad campaigns, then check out FlexClip. It is an easy-to-use and straightforward video-creating platform that comes with all the standard and professional tools. 
Steps To Initiate DesignCap Platform:
Here are the few steps that are necessary to create graphic designing software.
First, visit the website of DesignCap.
Click on the Sign-Up button in the top right corner.
Now, choose to connect with either Facebook or Google in the pop-up window.
You will receive a confirmation email after clicking on the Sign-Up button.
Now, confirm your user account by acting on it. 
So, now you have the answer to such questions like are there graphic designing websites free? Or which is the best online graphic design tool? DesignCap is the best premium and free tool that can create graphics for social media.
Features: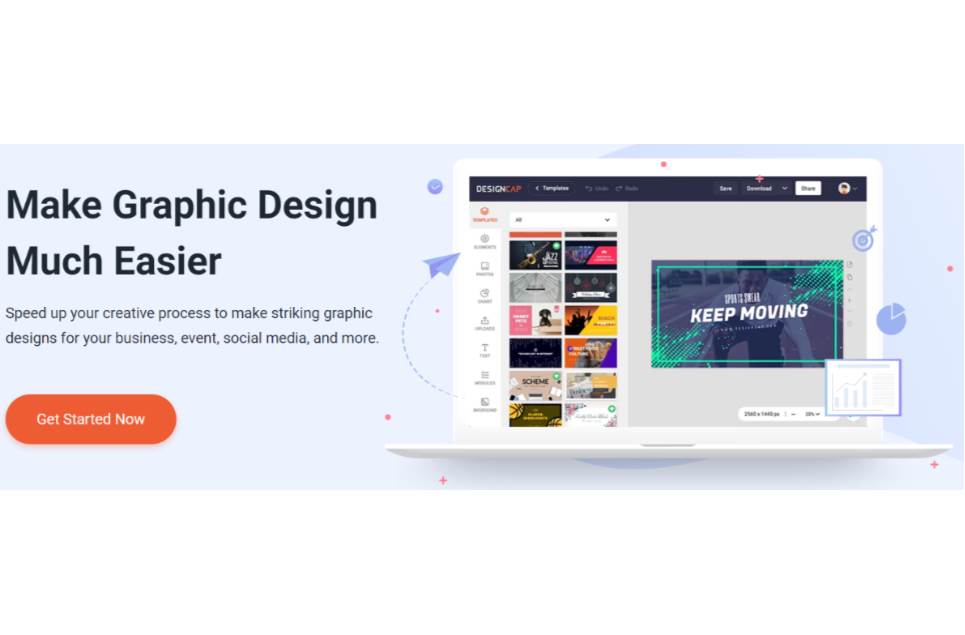 Templates:
Choose any DesignCap template.
Add a new page.
Delete the pages that have a pre-made design.
Create from the ground-up.
Elements:
At the DesignCap poster maker. You can add these:
Lines
Arrows
Basic
Drawings
Badges
Frame masks
Photos:
With DesignCap you can add an image to your project as it has a vast digital photography database. You can also layer the image to make it show on the top or below the design elements. 
Uploads:
You have the option to upload your own photo even if you are unable to find an image in the reservoir. You can browse the image through drives or a drag-and-drop interface. One thing you must keep in mind is to choose photos having formats JPG and PNG only. 
Charts:
You can choose these charts for slide presentations:
Chart Editor:
With DesignCap you are able to create your own chart and insert it into a digital asset. You can input your data into the spreadsheet either manually or externally (XLS, XLSX, CSV) file formats. 
Text: 
This feature allows you to insert blocks of text. It offers options of heading, subheading, and body text. You can also edit your message from pre-formatted, canned snippets.
Fonts:
With DesignCap you can upload your own fonts. It allows you to be as creative as you want with your text. 
Software Best Suited For:
Amateur social media graphic design
Digital marketers 
Hobbyists
Professional graphic designers
Bloggers
Social Media managers
Alternatives:
Easel.ly
Pixelmator
PhotoScape X
RawTherapee
Online Logo Maker
HoneyBook
Canva
Advantages & Disadvantages:
Pros:
You can create amazing posters and flyers.
Free to use.
It provides hundreds of templates.
Facilitates you with thousands of Royalty-free stock photos.
It provides you with graphic designing websites free.
It saves your time and money.
Online-based platform.
Cons:
Sometimes it takes a while to load.
No Background Removal.
Limited 3D illustrated elements.
Pricing:
DesignCap comes up with three pricing plans. Let's discuss!
Free Plan:
It provides graphic design tools for free.
You are limited to the number of chosen templates.
You can upload 5 different images.
You can save up to 5 designs.
You can exploit your work only in JPG format.
Basic Plan:
$4.99 per month.
Unlimited templates.
Unlimited stock icons.
Limitless modules.
You can export your work in high-resolution PNG and PDF formats.
You can upload up to 100 images.
You can save up to 100 designs.
Plus plan:
$5.99 per month.
Ideal plan to create graph design ideas.
You can upload your own fonts.
You can upload up to 1000 images.
You can save up to 1000 designs.
Bonus: 
Switch to Annual Plan to get 50% Off.
Use Code "BloggaliDC20" for an additional 20% off.
Conclusion:
DesignCap is able to make your designer life so much easier while starting your career. It can save you time and nerves! It provides several charming options, like animated themes through which you can refine the appearance of your designs. So, if you are looking for a cheap Canva alternative, you must try the DesignCap free plan.
Disclaimer: Some of the links on our site may earn us a commission if you make a purchase through them. Our recommendations are always based on our genuine belief in the product's quality and suitability. Your trust and satisfaction are our top priorities. Thank you for your support!