Are you looking for some creative poster designing ideas for your business? Are you a freelance social media manager and stuck to get a new inspiring poster design idea? If your answer is "Yes", then this guide is for you!
Social media managers need to come up with creative posters for their social media profiles that will attract attention and encourage followers to follow them. These posters can be used to market the manager's work, connect with followers, and build relationships. But what kind of graphics should you use to help promote your posts? 
In this article, I'm going to cover the following questions:
How to design a creative poster design?
What are the 10 best, most inspiring, and most creative poster designing ideas?
Which is the best free online graphic designer tool?
How to make beautiful photo collages? 
How to edit a photo quickly and easily within a minute?
If you want to get answers to all these questions, then keep reading this article! 
Here are some creative poster design ideas for social media managers. You can also check out the best screen recorder tool to record videos.
10 Creative Poster Designing Ideas
Eye-catching poster background image
One great way to create an attention-grabbing poster is to start with an eye-catching background image. You can find a variety of royalty-free images online, or you can create your own using a photo editor. 
Once you have your background image in place, start thinking about the design elements you want to include. Some ideas include text, graphics, and shapes. Be creative and experiment with different combinations until you come up with a design that catches the eye.
Keep in mind that simplicity is often best when creating posters, so try not to include too much information. You can also check out Fotojet designer– a free online graphic design tool to design posters, invitation cards, posts, etc. 
Typography experiment
Typography can be a great way to add interest and visual appeal to your poster. You can experiment with different fonts and types of text to create an interesting and eye-catching design. 
You can also use text effects such as shadows, bolding, and italics to create more visual interest. Be creative and have fun with your text! Try using different fonts and colors to create a unique look for your poster.
Use color overlays
When creating a motivational poster, it's important to think about the overall design. One way to add some creativity and flair is by using color overlays. 
This can be done in a variety of ways, such as adding a gradient or texture to the background or placing a colored filter over the text or images. This will help your poster stand out and grab attention.
Visual hierarchy
When it comes to creating a visually appealing poster, the first step is to create a hierarchy of elements. This involves arranging the different elements in a way that will draw the viewer's eye to the most important information first. To do this, you can use size, color, and placement to create contrast and visual interest.
Two-toned title
Creative poster designing ideas can be used to create an eye-catching and interesting poster. One way to do this is by using a two-toned title. 
This involves using two different colors for the title of the poster, with one color being used for the majority of the text and the other color being used for either a subtitle or to highlight specific words or phrases. This can help to make the poster stand out and grab people's attention.
No unnecessary elements
Designing a poster is all about creating an eye-catching and effective design that will grab people's attention. Another way to do this is to remove any unnecessary elements from your design and say more with less. 
This can be done by using simple, bold graphics and typography, as well as minimalistic colors. You can also use negative space to your advantage, and make sure your message is clear and easy to read. 
By keeping your design simple, you can focus on the most important elements and create a powerful and memorable poster.
Point of focus
When it comes to creating a poster, it's important to think about what you want to emphasize. Sometimes, the most eye-catching element on a poster is the focal point—the part that you want people to look at first and remember. 
There are lots of ways to create a focal point, and the best method depends on what you're trying to say with your poster.
One effective way to draw attention is by using contrast. A dark object against a light background, or a bright object against a dark background, will stand out more than an object with similar colors. 
Use shapes
When it comes to creating a visually appealing poster, using shapes is a great way to add interest. By creating different shapes and playing around with the colors, you can create a truly unique and eye-catching poster.
Play with layering
Layering is a great way to add depth and dimension to your posters. You can create different layers by using different fonts, colors, and shapes. This will help to add interest and visual appeal to your poster. 
Additionally, you can use layering to create a sense of depth and space. By adding shadows and highlights, you can make your poster look more three-dimensional. Experiment with different techniques and see what works best for your design.
Use humor
One great way to come up with creative poster design ideas is to think about the humor that you can inject into your work. This can be a fun and engaging way to capture people s attention, and it can also help to convey your message in an interesting and memorable way.
As you start to brainstorm ideas, think about what might make people laugh or at least smile. Humor does not have to be slapstick or over the top; often, a clever play on words or a simple visual gag will do the trick. Just make sure that your joke is relevant to your topic and that it won t confuse or alienate your audience.
Fotojet- A Graphic Designer Tool
Fotojet is an online graphic design tool that helps you to create posters, flyers, cards, collages, and more. It offers a wide range of templates and tools to help you get started quickly, with no design experience required.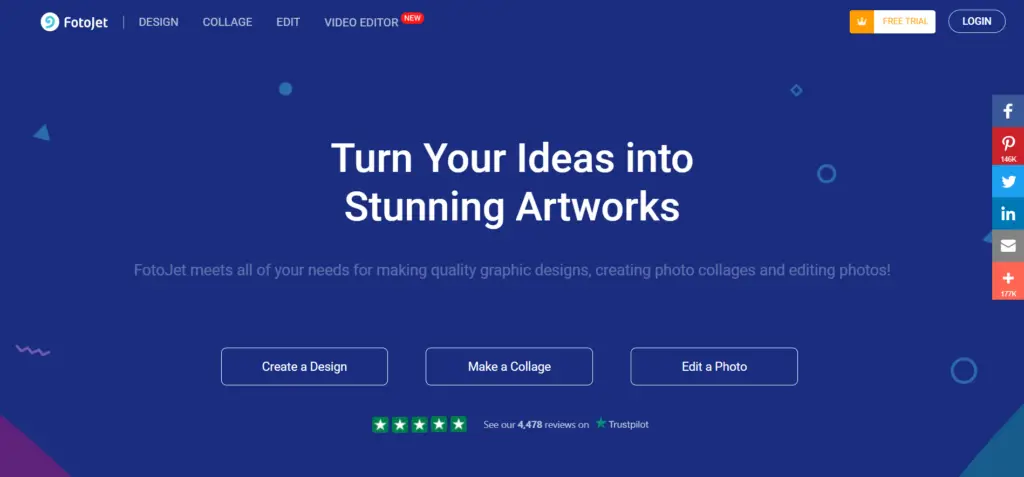 You can also add your own photos and text to create custom designs. Fotojet Designer is free to use online, and there is also a desktop version available. Here are some of the features of Fotojet, along with the pricing:
Features
Graphic designs

Facebook covers
Logo design
Magazine covers
Brochures
Infographic maker
Wedding cards

Photo Collages

Photo montages
Love collages
Birthday collages
Family collages
Baby collages
Anniversary collages

Photo Editing

Radial and tilt-shift
Rotate and flip
Photo frames
Overlays
Color splash
Vignetting

Hundreds of templates
Video Editor
500MB storage for Plus users
Premium fonts
Premium photo effects
Premium clipart images
Premium shapes
Premium overlays
Pricing
2 Plans: Free and Plus
Billed Annually: $3.33/month
Billed Monthly: $6.99/month
Conclusion
In conclusion, creative poster designing is a great way to capture your audience's attention and promote your social media account. By using interesting and eye-catching designs, you can grab people's attention and inspire them to follow your account. So, if you're looking for some new ideas to promote your social media account, be sure to give Fotojet a try! 
Want to hack SEO ranking? Check out these 12 SEO hack tips!
Disclaimer: Some of the links on our site may earn us a commission if you make a purchase through them. Our recommendations are always based on our genuine belief in the product's quality and suitability. Your trust and satisfaction are our top priorities. Thank you for your support!