Which is the best appointment booker platform? This is the most common question asked by online service providers like freelancers, businessmen, and entrepreneurs. And the answer is "Dotcal".
There comes a time in every person's life when they need to get their nails done, have their hair cut, or have some other service done. And, for those who can't afford to go out, booking an appointment through an app is always available. 
Dotcal is an appointment booker app that lets people book appointments with professionals, like hair stylists, masseuses, and personal trainers, through their phones. 
In this article, I'll discuss some of the best reasons and benefits of using an online appointment scheduling tool. The following are some of the questions that I'm going to cover in today's guide:
What are the benefits of using an appointment booker app?
How does the appointment scheduling app work?
Which is the best appointment booking app for freelancers?
Is there any free online appointment scheduling platform?
Why people should use the best appointment scheduling app?
So, if you've any of the above questions in the mind, then this is a must-read guide. Stay tuned! 
Interested to build your audience on LinkedIn? Check out Waalaxy!
Why people should use the best appointment scheduling app?
There are many different types of appointment scheduling apps on the market. It can be hard to decide which one is the best for your needs. But, there are a few reasons why people should use the best appointment scheduling app.
The first reason is that an appointment booker app can save you time. If you have an appointment, you can easily add it to your calendar and get a reminder before the appointment. This way, you don't have to worry about forgetting it or double-booking yourself.
Another reason to use the best appointment scheduling app is that it can help you stay organized. With all of your appointments in one place, it's easy to see what you have coming up and when you have free time. 
This can help you plan out your days and weeks more efficiently. Finally, using the best appointment booker tool can help reduce stress.
How does an appointment scheduling app work?
An appointment booking app, such as Dotcal, can work wonders for your business. When a customer wants to book an appointment, they just have to go to the website and select the time that works best for them. 
You'll get an email notification of the appointment, and you can either confirm or decline it. If you confirm it, the customer will automatically be sent a link to your calendar so they can see where and when their appointment is scheduled.
8 Benefits of using an appointment booker app
Increase revenue
Are you looking for a way to grow and increase your revenue? If so, you may want to consider using an online appointment scheduler. By using an online appointment booker, you can make it easier for your customers to book appointments with you. This can help you to grow your business and increase your revenue.
Monetary savings
There are a number of benefits to using an online appointment scheduler for your business. Perhaps one of the most obvious benefits is the monetary savings that can be realized by automating the appointment booking process. 
With an online appointment scheduler, customers can book appointments directly on your website, eliminating the need for someone to take calls and book appointments manually. This can save your business time and money, as it eliminates the need for someone to work full-time scheduling appointments. 
Time management
Another benefit of using an online appointment scheduler is that it can help you better manage your time. By automating the booking process, you can ensure that appointments are booked in a timely manner and that no appointments are double-booked. 
This will help you better manage your time and ensure that each customer has enough time to speak with you about their needs.
Faster payments
One of the most significant benefits is that it allows clients to make faster payments. With an online appointment scheduler, customers can easily make a payment by clicking on a link and completing the required information. 
This process is much faster than mailing in a check or waiting in line to pay in person. In addition, online appointment schedulers typically offer 24/7 customer service, making it easy to get help if you have any questions or problems.
Get reminders
Almost everyone has experienced the annoyance of forgetting an important appointment. In fact, forgetfulness is one of the most common reasons people give for not keeping appointments.  
This is where online appointment schedulers come in handy; they send you reminders so that you never forget your appointment again. 
Avoid overbooking
One of the most obvious advantages is that an appointment booker can help avoid overbooking. When appointments are made through a scheduler, each one is given a specific time and date. 
This eliminates the need for clients to call and inquire about availability, which can often lead to multiple people trying to schedule at the same time. It also cuts down on the number of no-shows, as clients are less likely to forget an appointment when it's already been scheduled and confirmed. 
Get valuable insights
Another most valuable benefit is the insight it provides into your business. With an online scheduler, you can track how many people are booking appointments, what times of day are busiest, and what services are in the highest demand. This information can help you make strategic decisions about how to allocate your resources and grow your business. 
Better security
One of the benefits of using an online appointment scheduler is that it provides a better security system for your business. Most online schedulers have built-in security features that protect your data and keep your appointments private. This can be important for businesses that handle sensitive information or deal with customers' personal data.  
Dotcal- the Best Appointment Booker
Whether you're a freelancer, businessman, entrepreneur, doctor, or anything else, you definitely want to boost your revenue and increase sales, right? That's where Dotcal comes in!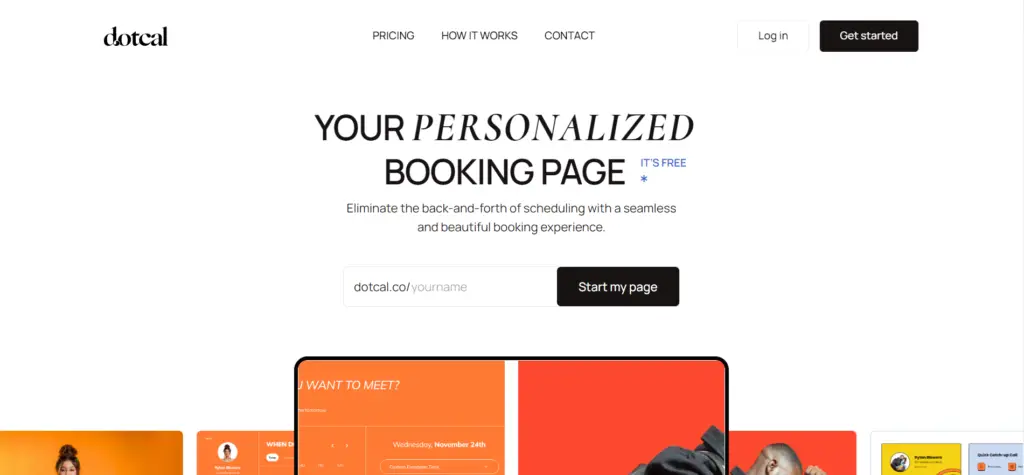 With Dotcal, you can create your personalized booking page, using pre-made templates and themes. There are a lot of appointment bookers on the market. So, what makes Dotcal so special? 
First and foremost, Dotcal is incredibly easy to use. Its intuitive design means that you won't spend hours trying to figure out how to make an appointment. 
Second, Dotcal integrates with your calendar so you can easily see your appointments without having to switch between different applications. 
Finally, Dotcal lets you share appointments with other people. This means that if you're running late or need to change something, you don't have to call everyone individually- you can just update the appointment on Dotcal and everyone will get the updated information.
Furthermore, you can integrate the Stripe payment method directly with your Dotcal profile and accept payments from clients.
Here are some features and pricing of the Dotcal- an appointment scheduler:
Features
Create a personalized booking page
Custom URL 
Unlimited meetings
Unlimited meeting templates
Maximum 6 calendar connections
Embed Dotcal link to your website
Removable Branding
Accept Payments
24/7 Customer Support
Pricing
Starter – $0/month

Personalized booking link
1 meeting template
1 calendar connection
Site embeds

Pro – $8/month (Use BLOGALI50 to get 50% off for six months)

All of the Starter features
Unlimited templates
2 calendar connections
Include coworker availability
Remove Dotcal branding
Custom calendar invite titles
Accept payments

Enterprise – $12/month

All Starter + Pro features
6 calendar connections
24/7 support
URL redirection on meeting confirmation
Training and onboarding
Conclusion
In conclusion, online appointment scheduling is a convenient and efficient way to manage your time. It allows you to view available appointments, book appointments, and cancel appointments with just a few clicks. 
By using an online appointment scheduling tool like Dotcal, you can save time and ensure that your appointments are booked efficiently.
Are you a freelance social media manager? Check out Desygner and create stunning graphics for your and your client's social media accounts.
Disclaimer: Some of the links on our site may earn us a commission if you make a purchase through them. Our recommendations are always based on our genuine belief in the product's quality and suitability. Your trust and satisfaction are our top priorities. Thank you for your support!