All people have smartphones today in their pockets. And they are always searching for best android apps that can ease their lives. Today, Google Play Store has around 3 million apps. And there are thousands of apps loved by the large community. You think of an app, and you can easily install it from the Google play store. 
Whether you are an artist, designer, social media influencer, or gamer, you can find all kinds of stuff (apps) on Play Store. There are a large number of categories according to which apps are categorized. This makes users experience better, and they can find their relevant app very easily. 
There are a lot of people who are using Art, Designing, and Communication apps. The people very much like these apps because they make their lives easier. For example, with a designing app, you can make your designs with just a few clicks. Similarly, using communication apps (social media apps) like Facebook or Whatsapp, you can connect with your friends, family, and even the whole world. 
Keeping in mind the people's choice, today we are going to list the eight best android apps (art, design, and communication apps) that are best in the market and loved by millions of people. We believe that you are using or have used some or most of the apps that we are going to list below. 
Keep in mind that we have listed the following best android apps because of their Google Play Store ranking, the number of downloads, and User's feedback. And all the apps are numbered randomly, so there are no first, second, and third position apps. The following best android apps are just from Two categories that are Communication and Art & Design. 
8 Best Android Apps:
Best Art & Design Apps:
So, first, we are going to list the best android apps from the art and design category. There are thousands of apps there in the Google Play store, but it is impossible to list all of them, so we are going to list the few best android apps available on the play store. 
Canva:
The first app in our best android apps list is the Canva app. If you are a graphic designer or design social media posts, then Canva can make your work easily. Not only that, but you can also design beautiful presentations, posters, book cover, DVD covers, Resumes, Infographics, Facebook, Instagram, Snapchat, and Twitter posts, YouTube channel art, Thumbnails, Logos and the list will not comes to an end.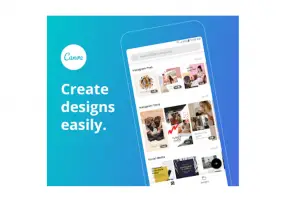 You can simply download the Canva app from the Google Play store and can create your designs within minutes using your mobile phone. So, you don't need to use your laptop in case of an emergency. Just open Canva and start creating your designs. 
Canva has 50,000,000+ installs and 3,034,742 people gave 4.7 star rating out of 5. So, you can get some idea now that if you still have not used Canva, then you are really missing something great. 
Photo Blend – Double Exposure Effect:
The second best photographic app on our list is the Photo Blend- Double Exposure Effect. You can create amazing double exposure, blending photos in minutes. With this app, you can create an awesome poster of your photo by blending them into one.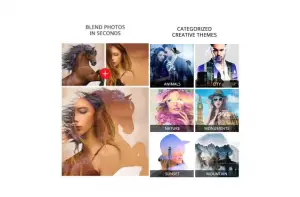 Some of the key features of this app are just amazing. It includes pre-created effects preview, Multiple blend styles. You can add cute stickers, personalized text, and then can save on your mobile or share it on your social media account. 
The number of installations of this app is 1,000,000+, and 18,000+ people gave a 4.8/5 rating, which is great. 
3D Logo Maker:
The next app on our best android apps list is 3D Logo Maker. If you want to create a 3D logo and you don't know Adobe photoshop or illustrator, then don't worry, you can create awesome 3D logos within minutes with no technical knowledge.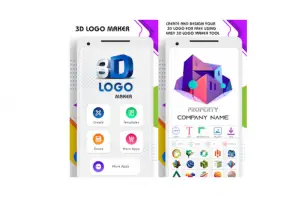 There are awesome fonts, templates that you can use to make your very own 3D logo. If you are looking for a logo for your social media account, Facebook groups, or want to create brand identity, then this app is for you. There are 1,000,000+ installation and 4.3 ratings by 15,000+ people. 
Poster Maker – Flyer Maker, Poster Designer App:
Poster Maker is another best android app on our list. You can create stunning, beautiful posters, flyers within minutes. The good thing is there will be no watermark on your generated posters so you can use anywhere.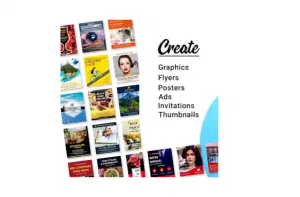 You can create awesome posters using 1000+ templates. And then can use them on your social media accounts. If you are a digital marketer, this app can really make your life easy. You can use beautiful backgrounds to create high-quality premium look posters and flyers in 2 minutes.
This app is quite similar to Canva but with somewhere fewer features. You can create Posts for Facebook, Instagram, Education flyers, Restaurant flyers, Black & white posters, Business flyers, YouTube thumbnails, and so on. There are 1,000,000+ installations and over 12,000 people gave 4.6 rating. 
Best Communication Apps:
We have above listed some of the apps from the art and design category. Obviously, there are a lot more that we will cover in the future. Now, we are going to list the best android apps for communication.
Whatsapp Messenger:
Whatsapp is a free messenger that lets you connect with your friends and family. It is one of the best android apps, probably the number 1 right now. The app uses your wifi/3G/4G internet to connect you with your family members. You can send free text messages, videos, pictures. You can also make video and audio calls. We suppose that every one of you is already using this app because it has now become an essential app for you.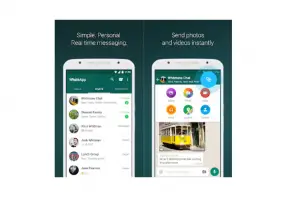 There are so many features that are visible and some hidden that only a few people know them. Like sending bold, italic text option is not visible, but you can send those messages with some technique. You can even sync your Whatsapp on Whatsapp web and use Whatsapp directly from your computer. 
Some of the most highlighting features are Group chat, Group voice, and video calls, No hidden charges, Completely Free, and so on. The total number of installations are 5,000,000,000+ and 117,382,652 people gave 4.3 / 5 rating. 
WhatsApp Business :
The next app is also from Whatsapp. The only difference is that this Whatsapp Business app is specially designed for business purposes. If you have an online store or/and Facebook business page, then you can consider this app.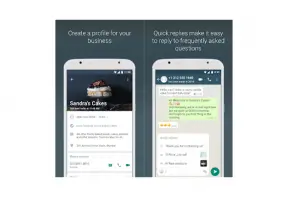 This app helps you and provides you with the opportunity of your business presence on Whatsapp, so you can communicate with your customers more quickly, and efficiently results in more sales for your business. Whatsapp Business can really help you to grow your business.
The app has a catalog feature which means you can upload pictures, descriptions, and prices of your products on your Whatsapp business account. So, when customers visit you, they can easily see your catalog. There is also a quick response feature which means that when you offline, an automated response will be delivered to your customer. You can set your customize response.
All other features like voice and video call, Whatsapp web are also available here. There are 100,000,000+ installations and 4.3 star rating by 2,407,245 people. 
BiP – Messaging, Voice, and Video Calling:
Bip is another app on our best android apps list. This is also one of the best messaging apps, and if we look at the features, then we can say that it can be a perfect competitor of Whatsapp. All the basic features are almost the same as Whatsapp but some with extra functionality.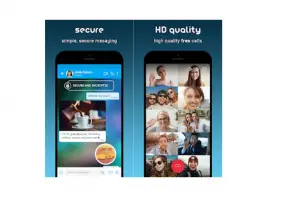 There is an instant translation feature which means you write a message in your local language but when you send it will be translated to your contact language. There are 106 languages which it can translate, and that makes it unique from Whatsapp. The next feature is that there is exchange rates option as well.
You can send text messages, videos, images. You can make voice and video calls and can add up to 10 people in one call, which makes it better than Whatsapp in this race. The app is completely secure. 
You can also customize your app theme to make it comfortable for you to use. There are about 10,000,000+ installations and 917,370 people gave 4.4 average rating.
Truecaller: Caller ID, spam blocking & call record:
Truecaller is another one of the best android apps list. With this app, you can make calls to your friends free. It also helps to block spam calls and messages. The app automatically detects call and messages from telemarketers, unknown numbers, and block them.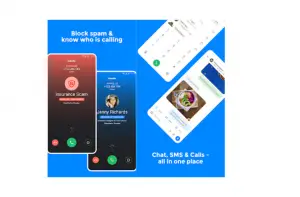 You can also record your calls and save them on your phone. But this will not work for android Pie and above android versions. You can also create a backup of your history, calls, and messages and save them in your Google Drive. There is 500,000,000+ downloads and 4.4 rating by 13,283,590. 
Conclusion:
So above is the list of some of the best android apps from the Art, Design, and Communication category. This best android apps list is just not even a drop of the sea. There is a huge library of best android apps that we will try to cover in the future. If you are looking for the best social media graphics apps that work for laptops, android, and IOS, then you can also check. 
Comment down below and let us know about our best android apps list. Which app do you like the most?