Ocoya is a groundbreaking artificial intelligence software that helps marketers create, curate, and design content in the blink of an eye. The CMS AI tool is quite new, and the team members are passionate about leveraging AI to help marketers save time and money.
As many businesses and marketers look to new and innovative ways of marketing their products and services, they quickly realize that old-school advertising techniques simply do not work anymore. The need for a more comprehensive marketing strategy is becoming clear. A new tool Ocoya, has emerged with the goal of providing an all-in-one content marketing tool.
Ocoya is an AI tool that is the best alternative to Canva, Jarvis.ai, and Hootsuite. So, you don't have to pay for each tool separately. Ocoya's main emphasis is on content marketing strategy – it creates articles, blog posts, ad copies, videos, social media posts, integration with social media platforms, running ad campaigns, scheduling posts, and much more.
In this article, I'll discuss the following questions:
What is a content marketing strategy?
Why do we need content marketing strategy tools?
What are the features of Ocoya?
Is Ocoya lifetime Appsumo deal worthy?
So, if you are looking for an all-in-one content marketing strategy tool, then keep reading this article!
What is a content marketing strategy?
A content marketing strategy seeks to create and distribute valuable, relevant, and consistent content to a clearly defined target audience. This strategy is often used by businesses that want potential clients to learn about their products or services in a natural way. In other words, content marketing seeks to attract new customers without directly asking for them.
Why do we need content marketing strategy tools?
Content marketing strategy tools are where the content and the marketing intersect. These tools provide a framework for creating and executing a content marketing strategy while also tracking performance. Without these, it would be difficult to measure the success of your strategy or to scale your efforts while maintaining quality. 
A good content marketing strategy will bring value through increased awareness and increased conversion rates on your site. That's why we need tools like this to make our content marketing more efficient and effective.
What are the features of Ocoya?
As I said earlier, Ocoya is the best alternative tool to Canva, Jarvis.ai, and Hootsuite, and it comes with so many features. With Ocoya, people can create and manage high-quality and converting marketing strategies within minutes.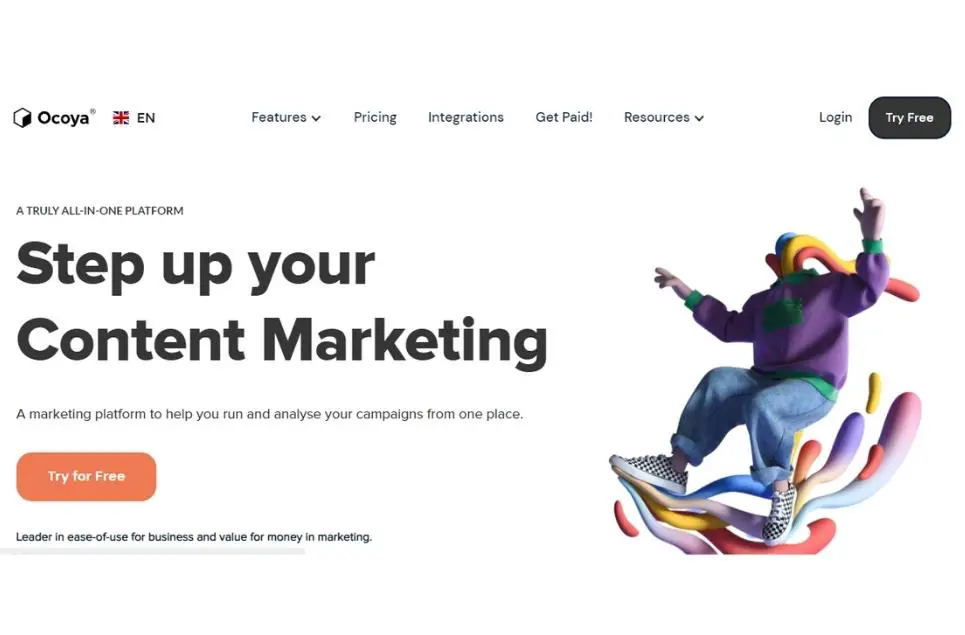 Let's discuss some of the best features of the Ocoya:
Create & Manage Marketing Campaigns:
The marketing software, Ocoya, has been designed to help marketers at all levels of experience quickly create and manage high-converting marketing campaigns. With this web-based software, you have an incredibly powerful tool to execute your marketing strategy seamlessly. Ocoya's features are designed with you in mind to make your life easier. 
The Best Alternative To Hootsuite:
The Ocoya platform is an online solution for individuals and companies with a built-in social media management structure. This is in contrast to Hootsuite, which is mainly used by independent social media users. 
Ocoya offers an easy interface, the ability to schedule posts, streamline all of your social media networks in one place, cross-network integration, and provides analytics for users to see how well their posts are performing.
The Best Alternative To Canva:
Ocoya is also an online tool for designers, an alternative to Canva. It has many features that make it a better choice than Canva. For starters, it has more templates than Canva, which enables you to create unlimited content. Secondly, its drag-and-drop interface makes designing easy and intuitive. There are also many different layouts to choose from, so the content will always look good no matter what.
The Best Alternative To Jarvis.ai:
The newest and most popular alternative to artificial intelligence writing tool Jarvis.ai, Ocoya, is making waves across the internet and becoming a more and more appealing option for those who need assistance with their creative pieces. 
Ocoya has been touted as the answer for all who need help with creative writing but don't want to sacrifice their uniqueness or personality.
Best For Businesses, Content Creators, & Agencies:
Ocoya was created to allow small businesses, content creators, and digital agencies to run their marketing campaigns without stress. There is also a demo tour option available on the website that will help determine if Ocoya is right for you. 
Once subscribed, you can get things done quickly by starting tasks in the system. The tasks are customizable based on your needs and preferences, which means that you're not limited to just one option for executing your marketing campaign.
Link Shortner:
Ocoya also has a link shortener feature. This makes it easier for you to post links on social media sites because link shorteners are not included in text posts by default. You can also use Ocoya to shorten links from other websites, such as YouTube or Amazon.com.
Background Remover:
Another great feature of the tool is the image background remover. With just 1 click, you can remove the background of any image; especially, it works best with Product images.
Launch Ad Campaigns:
Launching a Facebook and TikTok ad campaign can be an effective marketing strategy to increase brand awareness. However, there are many features that go into a successful ad campaign that need to be considered before going into production. Ocoya offers a new ad campaign feature that allows you to create and manage Facebook & TikTok ads from one dashboard.
Pricing:
Ocoya is offering two types of subscriptions on their website: Monthly & Yearly. There is a total of 4 plans available from which you can choose. I'll also show you a way to get this for a lifetime with a one-time payment shortly.
Silver (€39/mo):
For individuals or small teams needing scheduling and more creatives.
20 social profiles
Unlimited scheduled posts
Unlimited images & videos
Unlimited storage
Unlimited Travis AI
Unlimited Jubb.ly™ links
Unlimited background remover
Essential analytics
100 copy translations
Gold (€99/mo):
For teams and businesses with additional profile and reporting needs.
Everything from Silver
60 social profiles
300 copy translations
Diamond (€449/mo):
For large businesses with advanced analytics and international translation needs
Everything from Gold
140 social profiles
700 copy translations
Advanced analytics (coming soon)
Branded reports (coming soon)
Private API (upon request)
Platinum (€999/mo):
For agencies with more social, advanced control, and support needs.
Everything from Diamond
400 social profiles
2,000 copy translations
Is Ocoya lifetime Appsumo deal worthy?
All the features I mentioned above are quite amazing, right? You don't have to pay subscriptions separately for different tools as it is an all-in-one tool. However, the pricing is a bit high. Here comes the Limited-time Lifetime Appsumo deal, which starts from just $59 and offers more than mentioned above. 
Let's check out quickly plans and features of the Ocoya deal on Appsumo. 
Plans & Features:
Deal Terms:
Lifetime access to Ocoya.
All future Silver (codes 1–2), Gold (codes 3–6), or Diamond (codes 7+) Plan updates.
Must redeem your code(s) within 60 days of purchase.
Stack unlimited codes
60-day money-back guarantee, no matter the reason
Note: Calls with a social expert are not included in this Ocoya lifetime deal
Features included in all plans:
Unlimited scheduled posts
Unlimited images
10,000+ templates
Unlimited use of Travis AI
All supported channels (including future channels)
Unlimited storage
Lifetime Deal Pricing: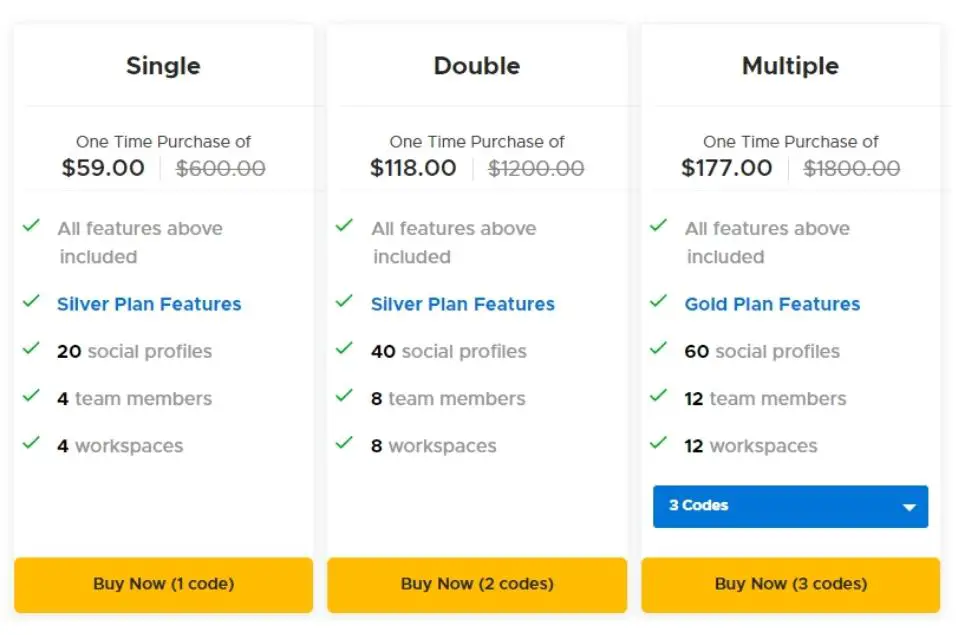 This is the pricing of the first three plans. If you want to know the pricing of all plans, then you can check Ocoya Appsumo Deal.
So, if you are interested in this limited-time lifetime deal, then you can buy from the below button.
It is an affiliate link, and I will get some commission, and you will get some discount if you are a new customer. So, it's a win-win game for both ????.