The premier image optimizer for WordPress nowadays is the EWWW image optimizer which is used by over 900k websites. It's a huge number! Isn't it? You surely need an untroubled way to optimize and compress images for your website.
So, are you tired of having a slow website or improving your bounce rate or SEO? Then it's time to check out EWWW! EWWW image optimizer helps with WordPress image optimization so that your site becomes faster. It also upgrades your bounce rate, boosts SEO, and makes your customers happy. 
EWWW Image Optimizer:
The EWWW image optimizer can enhance page speeds through image optimization.
The images previously uploaded on WordPress could be optimized with the aid of EWWW image optimizer plugins. 
The images are also converted into the perfect file format, i.e. WEBP and newly uploaded images are refined automatically by this software.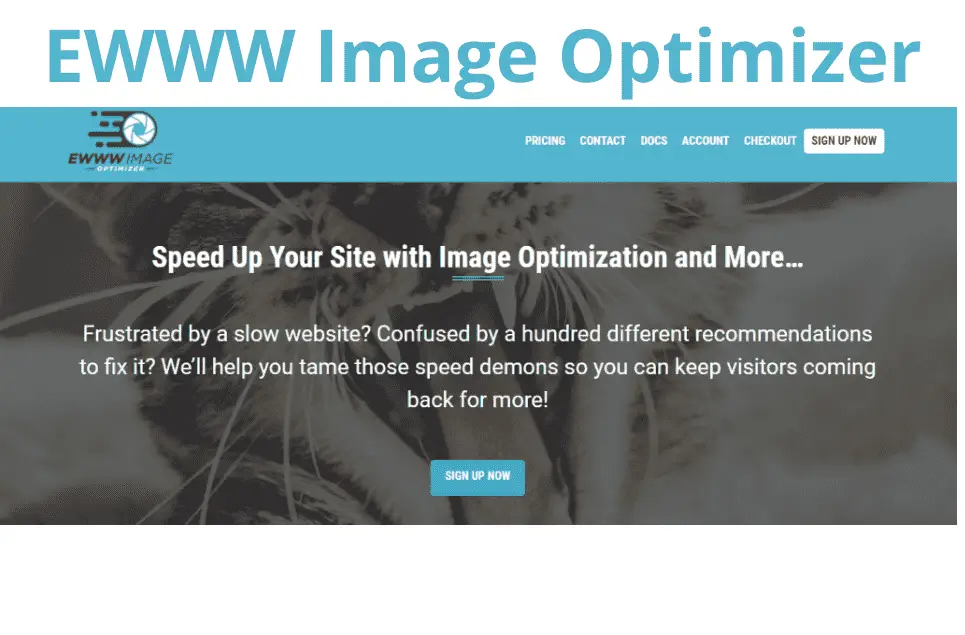 While image optimization is required for improving a WordPress site's speed and SEO ranking, we can't ignore social media traffic. If you are a social media content creator, manager, freelancer, or influencer and want to automate your social media post schedule, then try out Social Web Suite.
Working Of EWWW Image Optimizer:
EWWW image optimizer tool helps you automatically compress, convert and skill your images as well as save storage space without sacrificing quality. The best thing is it helps automate all that with the availability of recommended settings right when you sign up. 
With EWWW image optimizer, you can even get more web settings and features by enabling ludicrous mode to give you more control. There's another attribute that automates the best speed for your website. This covers everything related to non-image. Let's talk more clearly in the featured section!
Features:
EWWW image optimizer is actually made up of 3 WordPress plugins described as follows!
Easy Image Optimizer:
EWWW can easily compress images and files (JS/CSS) for finer speed and facilitates auto image scaling.
Compress API:
These features boost website speed and save your storage space. The original images will be on their servers and saved for 30 days.
SWIS Performance:
It has the fastest engine, handling page coaching, JS/CSS optimization techniques as well as optimizing Google fonts.
These 3 combinations provide you with everything you require to improve website speed.
The remaining features are as follows!
Unlimited Speed:
EWWW offers automatic background optimization so that you don't need to wait to upload the images. There is no limit on the speed as well! 
Versatile Steering:
It offers numerous options of conversions in which you will get precise image file format like GIF, JPG, or PNG.
Security:
EWWW makes use of the top technology of SSL encryption so that you can easily enjoy the best safety and security for all communications.
Easy To Handle:
With the help of excellent industry-level tools, you can optimize perfect pixels quite easily.
Multiple Image Optimization Options:
The optimization options provided by EWWW are
WebP compatibility
Images conversions
Image Resizing
Metadata stripping
Capability to change the JPG/GIF.PNG compression levels
Image Backup:
The EWWW image optimizer plugin provides you with a free image backup facility. This tool is amazing as it stores the images for 30 days, so now you can backup your images within a month. 
Scheduling Image Optimization:
In the plugin's advanced settings tab you can schedule the image optimization for the web. 
Bulk Optimize:
When you install this EWWW image optimizer plugin, all the images can be optimized with a single click. I hope that's a big WOW! You don't need to optimize every image separately. 
Compress Images Associated With Other Plugins:
EWWW optimizes images associated with other popular plugins:
Theme images
BuddyPress avatars
Meta slider slides
WP symposium pro avatars
NextGEN Gallery
Regenerate thumbnails
Much more
Fully Automatic Optimization:
In this plugin, you will be able to get everything automated like lazy loading, CDN deliverability, WEBP conversion, compression, and scaling. 
Software Best Suited For:
This EWWW image optimizer tool is best for WordPress website owners and developers who want to make their sites faster and improve the experience of customers. 
Alternatives:
Pros:
Automated process
Perfect alternate of WP Smush plugin
Beginners friendly
Great support
Works with any folder
Developer friendly
Compatible for every browser
Reduce image size, without compromising quality
Bulk optimize
Powerful WordPress image optimization
No brainer for WordPress
Best for WordPress blogs or sites
Helps in ranking on Google SERP
Fantastic speed
Improve site performance
Great image compression ratio
Load images
Cons:
Server load
Compression type
Web host limitations
Limited customer support
Pricing:
EWWW image optimizer comes up with these pricing plans. Let's discuss!
Standard:
$7 per month
It has unlimited images
It has 1 site
It provides with auto-compress, auto WebP, and autoscale opportunity
It has a lazy load
Optimization of JS/CSS
It possesses SWIS performance
It contains 200 GB of bandwidth
It has US and EU CDN
Growth:
$15 per month
It has 10 sites
It possesses global CDN delivery
It contains 400 GB of bandwidth
It has a custom domain
Infinite:
$25 per month
It offers unlimited sites
It contains 800 GB of bandwidth
It possesses site speed audits
EWWW Image Optimizer Lifetime Deal Review:
EWWW image optimizer lifetime deal or Appsumo deal terms facilitates you with the following:
Anyone can get lifetime access to the EWWW image optimizer
It possesses all future plans update
There are no codes and stacking
You can activate your license within 60 days
It has GDPR compliant
It offers a 60-day money-back guarantee
The offer is not being able to enhance or reduce between license tiers
EWWW lifetime deal becomes sweeter due to Appsumo's lifetime deal. I mean, it's offering a lot of benefits for their customers. What else can you expect? So, purchase the EWWW image optimizer lifetime deal today without any doubts, as this lifetime deal will be gone soon.
License Tier:
One-Time Purchase:
$99
200 GB of monthly traffic bandwidth
10 sites
Unlimited Images
Site Speed Audits
Auto-Compress
Auto-webP
Lazy Load
Auto-Scale
JS and CSS Optimize
SWIS Performance
Custom Domain
Global CDN Delivery
Bottom Line:
EWWW image optimizer is the popular image compression plugin obtained from the WordPress plugin. You will enjoy all its top-notch free features, including image compression, scaling, WEBP conversion, lazy loading, and much more.
It facilitates you with premium features as well as CDN support. The complete advantages include an easy image optimizer plugin, API, and SWISS performance. This is everything you need to know about this amazing plugin. 
The tool is pretty advantageous for WordPress image optimization. You must stay conscious of the excess usage of memory. The EWWW image optimization tool improves the speed of your WordPress website and SEO ranking tool. So, you should not miss out on an amazing EWWW image optimizer lifetime deal. Get from Appsumo today!!!