The strongest WordPress hosting platform nowadays is MakersHost which is specially designed to ease the pathways of makers and doers. It comes at an unbeatable price point and outperforms the competition.
Thanks to its auto-scaling cloud infrastructure on pure SSD hosting servers and performance-boosting optimization suite. It offers multiple functions like:
Blazing fast
Free SSL
Free global CDN
Intelligent Autoscaling
MakersHost facilitates you with the tools that you can install on your high-speed hosting package simply with one click. The most popular, of course, would be WordPress and there are a bunch of other things that you can use.
If you are a beginner and don't know about WordPress, no worries! Check out Zyro AI Website Builder, which will make a website for you within minutes.
MakersHost
Welcome to MakersHost! In this brief platform walkthrough, you will familiarize yourself with the dashboard to get to know some of the most important features and address the number of the most frequently asked questions. So, let's dive right in!
Working Of MakersHost
Once you purchase a package, you will land on the dashboard screen. From the main dashboard area, you will be able to order additional services such as additional web hosting packages, register domains, order additional SSL certificates, order VPS, and a number of additional services that we have available.
You'll also be able to manage the existing services that you have as well as manage your account. You'll also have access to customer support at the bottom, where you can contact customer support, create support tickets, and access the support database.
Here, you'll find answers to most questions that you might have. So, it is always advisable to check out the customer support database before making the effort to reach out to customer support directly.
Features Of MakersHost
MakersHost provides you with the top features described as follows: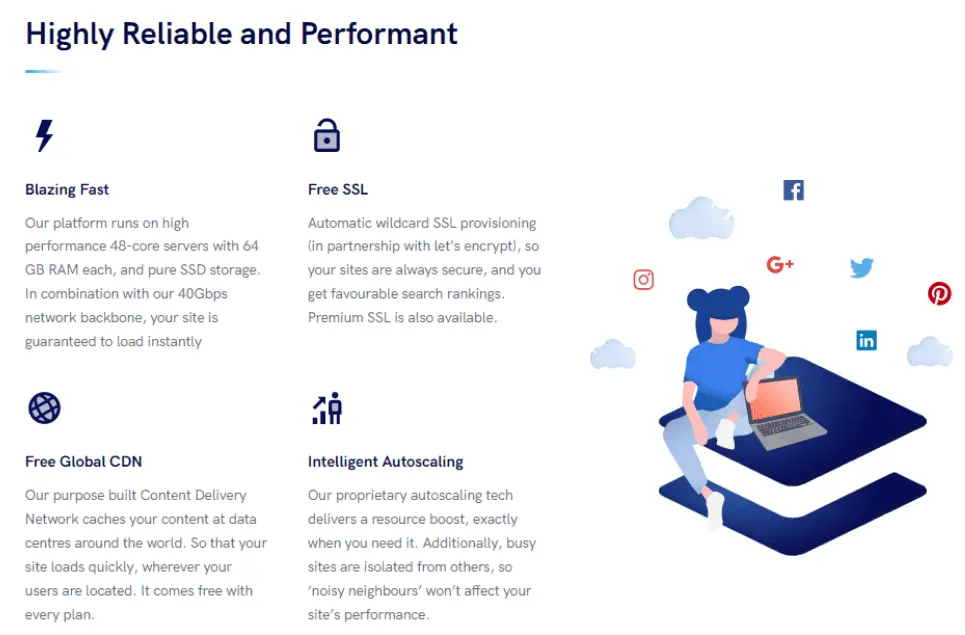 Additional Domains To Your Package
Adding a domain to the package is very straightforward. There are only 2 steps to it!
First, you will select managed services and manage hosting options. Click on the hosting, and select your hosting package. Click manage!
Now scroll down to domain names and click domains. There you have it! Here, you'll be able to add additional domains to your package.
Free SSL Certificate Activation
Go back to your managed packages dashboard and here you will have all the options. You will scroll down to the security and click on SSL. Then here you have your domain, and you will simply click activate.
It is important to note that you have to use the name service for the free SSL certificates to work.
CDN Content Distribution Network
It offers:
Edge caching
Web optimization
Black visitors
Statistics
Web File Management
It has options include:
File manager
FTP accounts
Backup/Restore tool; a manual tool where you will create a zip file for all of your files and databases. If you want an automatic backup and restore, we have that available for a nominal monthly fee.
Web builder; You'll be able to get access to the website builder tool.
File permissions checker
Extensive Email Functionality
It includes:
Webmail; You can use your email functionality through the webmail interface. You can also use your mail client using IMAP or POP3.
Email accounts
Email forwarders
Catch all forwarders
Autoresponders
Send and Receive only addresses
Junk mail filters
Email summary and Email migration
Web Tools
Here you have access to things like:
PhpMyAdmin
MySQL databases
Domain Names
Domain names can manage your domains, subdomains and edit your DNS.
Security Section
The security section is where you can have your route access, SSL generation, and other options as well.
Logs And Stats
Here you can check your statistics!
One-Click Installs
Now at the bottom, you have your one-click install library where you have over 80 1-click installs currently available.
So, these are all the tools that you can install on your lifetime web hosting package simply with one click.
Alternatives
NYKI cloud
Webhosting UK
HostMaria
MODX
Pros
Fast customer service
Free SSL and CDN
Intelligent autoscaling
24/7 support
Super secure
Easy hosting control panel
Good uptime
Best SSD web hosting
Unlimited bandwidth, tech support, admin panel, and price
Best hosting features for a cheap price
High-quality, and affordable web hosting
Cons
Delay of email setup
Admin panel has a couple of bugs but not a showstopper
Issuing SSL
Lack of API
Pricing
MakersHost comes up with these pricing plans. Let's discuss!
Single Web Hosting
$0.99 per month
1 website and 1 database
50 GB bandwidth
SSD storage of 10GB
5 into 10GB mailboxes
Free Wildcard SSL certificates
Automatic malware scanning
Unlimited number of visitors
1tbps+ DDoS protection
Included $19/m value of website builder
It has 80+ one-click installs
Possesses free global CDN
It has priority support of 24 hrs
It managed the best WordPress hosting
Professional Web Hosting
$2.99 per month
10 websites and 10 database
Unlimited bandwidth
SSD storage of 100GB
10 into 10 GB mailboxes
Free Wildcard SSL certificates
Automatic malware scanning
Unlimited number of visitors
1tbps+ DDoS protection
All other features included
Unlimited Web Hosting:
$9.99 per month
Unlimited websites, databases, and bandwidth
Unlimited SSD storage
Unlimited mailboxes
All other features included
Agency Plan
$49.99 per month
This plan gives clients their packages with root access
Everything in the unlimited package
Provision unlimited packages for clients
MakersHost Lifetime Deal Review
MakersHost lifetime deal or Appsumo deal terms facilitates you with the following:
Anyone can get lifetime access to MakersHost
It possesses all future plans update
It offers a 60-day money-back guarantee
You can save the code within 60 days
Each code provides you with an additional professional package allowance
MakersHost lifetime deal becomes sweeter due to Appsumo's lifetime deal. I mean, it offers a lot of benefits for their customers. What else can you expect? So, purchase the MakersHost lifetime deal today without any doubts, as this lifetime deal will be ending soon.
License Tiers
Code 1
$49
It has 10 websites and databases
It has 100 GB of SSD storage
It has unlimited bandwidth
It provides free SSL certificates
This lifetime deal is no longer available now!
Conclusion
MakersHost is rated as the number one web hosting provider for makers and doers. The plan is perfect for every one of you, especially for one who has very low blog traffic. It is a web host running on an auto-scaling cloud infrastructure, boasting global edge caching, highly optimized managed WordPress, 80+ 1 clicks install, free SSL certificates, and much more.
MakersHost is specially designed with the maker in mind, catering to the unique needs and requirements of getting new projects. The FAQ is good too for customers who require explanations enough to grab this opportunity. So, you should not miss out on an amazing MakersHost lifetime deal. Get from Appsumo today!!!
Disclaimer: Some of the links on our site may earn us a commission if you make a purchase through them. Our recommendations are always based on our genuine belief in the product's quality and suitability. Your trust and satisfaction are our top priorities. Thank you for your support!