FlexClip is an easy-to-use and straightforward video-creating platform that comes with all of the standard and professional tools. It lets you edit online videos with ease and in a simple method, even for beginners. 
If you are thinking and planning to use FlexClip video maker software, you must read this article. In this article, there is a genuine and complete review of FlexClip which is a Camtasia alternative. By the end of this review, you will know how worthy FlexClip is for video creation. 
However, if you are a social media influencer, designer, freelancer, content creator, or business owner and want to create stunning graphics for your social media accounts and websites, then check out Desygner.
FlexClip:
Many companies are promoting their products and services using video content on various platforms and running ads. Creating animated videos, social media videos is not as easy as it sounds, especially for those who are new in the industry.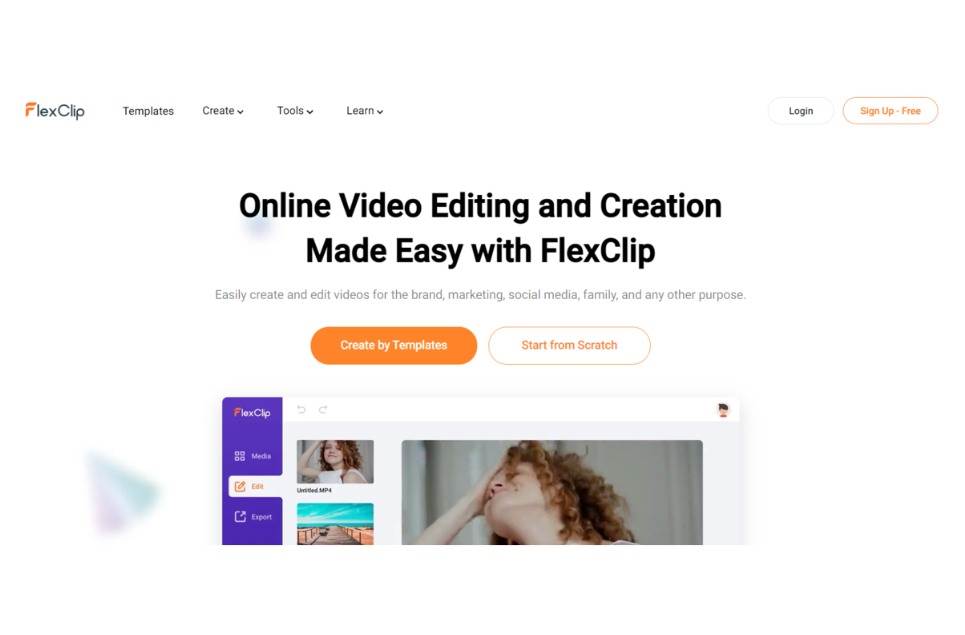 Just recording a video isn't enough to complete your work! It requires a lot of creativity, and your effort makes these videos engaging and professional. You must have the right tool and experiences to create a quality video that generates results positively. 
Although you can find too many video editing tools, either their interface scares you, or perhaps, they are expensive. 
To solve your problem, I have come up with a perfect online video maker called "FlexClip" that can create breathtaking videos and reduce your hard work. So, let's get started!
Working Of FlexClip:
This Animoto alternative FlexClip has a very straightforward editor that anyone can use. You don't have to be very experienced and have the immense technical knowledge to create a video using FlexClip. 
When you log in to your FlexClip account, you will see the simple interface and easy-to-use dashboard. The video editor is Storyboard, which looks like a linear video editing tool.  
You can start with either the FlexClip template or create one from scratch. Just import the content from your computer, hard disk, cloud-drive, or use any pre-made template from FlexClip's extensive library.
Apart from that, you can add tons of elements like text, background, overlays, music, videos, images, effects, and much more with one click and drag & drop feature as per your requirements. 
You can also add the animation, transition, and watermark to fine-tune your videos without having much video editing experience. 
Once you are satisfied with your editing, click to preview and export your video in a different format. After rendering your video, you are ready to download and use it as per your needs.
Features Of FlexClip:
FlexClip provides you with top features described as follows!
Copyright-Free Assets Library:
FlexClip offers thousands of copyright-free assets like videos, images, and music to use in your Real-Estate videos for social media. Though they are royalty-free, you can use them for your marketing, promotional, commercial video creation purposes without having a fear of copyright claim. 
FlexClip assets library keeps updating with new content to find yourself one step ahead with the latest trend. 
Screen Recorder: 
Sometimes you require to capture your desktop screen or want a screen recording feature to explain your product and services. So, FlexClip has a solution for you! 
It offers a web-based screen recorder for free so that you can capture your desktop screen and webcam without installing any extra software. 
Video Compressor:
Do you have a large video file? Don't worry!!! FlexClip offers a video compressor tool to compress your video file size in a few clicks. Just upload the file, select the compression quality, resolution and hit the compress now button. 
In a few seconds, your compressed file is ready to download. Using FlexClip Video Compressor Tool, you can compress the following format file: MP4, MOV, M4V, WebM, etc.
Video Merger:
Sometimes you may require to join multiple videos footage in one piece. So here is the solution! FlexClip video merger tool makes your job super easy. Just upload your video footage in a sequence and merge them all in one video content with a single click. 
Video Converter:
You might be faced with some errors while uploading youtube intro and outro videos if that file format is not supported. Isn't it? 
Fear not, FlexClip has a simple solution for it. Just upload the video, select video resolution/ format/ video quality, and hit the start button to convert your video format instantly. 
Video Trimmer:
Trimming wedding videos or some lifestyle videos is all about shortening the length of any video. Using FlexClip video trimmer, you can easily cut and shorten the video length with a few clicks. 
Apart from that, you can split your video into multiple parts and add some animation, effects, and transitions to give a professional look to your video.
Slideshow Maker:
It is one of the most liked features to make a slideshow of images. You can also use this tool to create an attractive video using your pictures. Just upload the number of images and add the desired effects to make your slideshows more professional and attractive. 
Categorized Template Library:
All the FlexClip video templates are pretty engaging and nicely created with excellent effects, animation, transition, overlays, and much more. Although it has a variety of video templates to choose from, you can start with scratch to create your own.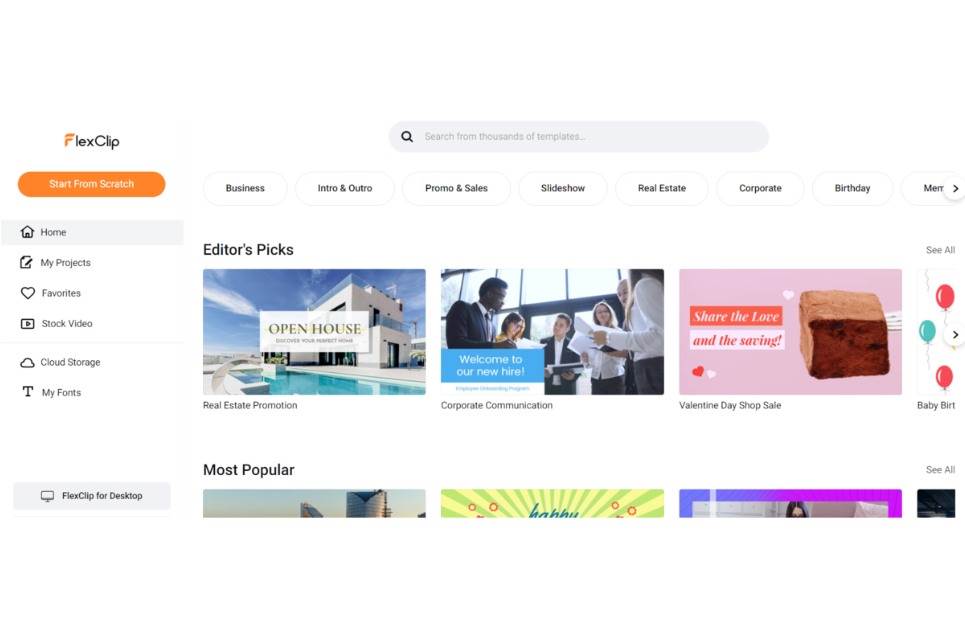 One of the best parts of using FlexClip is that all the templates are organized in various categories that you can find as per your business need. All these video templates are combined in many different categories. 
You can use these pre-made video templates to create high-quality video content with a few clicks. Just add your business material and all sets. 
Some of the categories are the following:
Business
Lifestyle
Social Media
Intro/Outro for YouTube
Slideshow
Real Estate
Birthday
Memorial & so many others
Alternatives:
FlexClip is an alternative tool of the following:
InVideo 
WeVideo
Magisto
Prmo.com
Animoto
Kapwing
Clipchamp
Wave. video
Lumen5
Beecut
Camtasia
G2 Deals
Prezi
Final Cut Pro X
iMovie
Pros & Cons of FlexClip:
Pros:
An ideal choice for amateur video editors or for those who want to edit videos.
Awesome drag and drop function.
Royalty-free photos, and audio tracks.
It supports all the popular formats, including MOV M4V, WEBM AAC, MP4, FLAC, M4A, MP3, etc.
You can also add captions, text images, logos, music, the effects of transition, filters, and many more.
It is free to record the screen or capture it and save the voiceover.
Other free tools are also available, such as Screen Recorder, Slideshow Maker, Video Converter, and Video Compressor.
Cons:
The free version of the FlexClip has limited features. It would be best to get its premium version to access the top feature. 
It takes a pretty long time for the video to get exported. 
It does not have a team collaboration feature. 
It does not support 4K videos.
Pricing:
FlexClip comes up with these pricing plans. Let's discuss!
Free:
$0 per month.
480p SD downloads.
1 stock video per project.
Maximum 12 projects.
Video length up to 12 minutes.
Basic:
$5.99 per month.
720p HD downloads.
1 stock video per project.
Save unlimited projects online.
Video length up to 3 minutes.
Custom watermark.
No FlexClip intro.
10 GB Cloud space.
50 GB video sharing space. 
Plus:
$9.99 per month.
1080p full HD downloads.
5 stock videos per project.
Save unlimited projects online.
Video length up to 10 minutes. 
30 GB Cloud space.
100 GB video sharing space. 
Business:
$19.99 per month. 
Unlimited stock videos per project.
1080 full HD downloads. 
Save unlimited projects online. 
Video length up to 30 minutes.
100 GB Cloud space.
1TB video sharing space. 
FlexClip AppSumo Lifetime Deal:
We've already discussed that FlexClip is offering some amazing tools for a very low price per month. Guess what, you can get FlexClip with just one-time payment for lifetime. Yes, that's right. 
FlexClip is offering LTD (Limited Time Deal) on Appsumo, starting from just $69. And you can get all the features plus premium support if you buy it today. 
Bonus: Here is the $10 off if you are a new customer on AppSumo and haven't purchased anything before. 
You can read the lifetime deal features from the AppSumo product page. Get access now!!
Final Thoughts:   
FlexClip offers almost all the features, functionality, and assets that you ever need to create your first video without wasting much time. Not all people are good at video editing and can use the other popular video editor to make a high-quality video for their business needs. 
That is why FlexClip, an online video maker, is the perfect tool for you. So, if you are a beginner or freelancer and looking for a powerful online video maker at an affordable price, then this amazing deal is for you. 
Disclaimer: Some of the links on our site may earn us a commission if you make a purchase through them. Our recommendations are always based on our genuine belief in the product's quality and suitability. Your trust and satisfaction are our top priorities. Thank you for your support!