Are you struggling to find enough time to create copywriting for your blog posts or other marketing materials? AI writing tools are the solution for you. Unfortunately, the reality is that many content marketers are overwhelmed with all of the responsibilities on their plate. Luckily, there are simple AI tools available that can help these marketers create high-quality content quickly and easily.
There are many AI Writing tools available online but they are very expensive. People can use AI writing tools for any purpose like copywriting, blog writing, cold emails, Google & Facebook Ad copy, etc. Here are the two best ai writing tools that you can get for a lifetime with a one-time payment.
WordHero- AI Content Writer
Rytr
Let's discuss them all one by one now.
WordHero Review- AI Content Writer:
WordHero is one of the best and affordable AI writing tools right now. A new type of AI content writing software automatically generates articles, blog posts, and web pages. WordHero incorporates natural language generation to create unique articles on any topic that its users provide. It produces readable articles without grammatical errors or repetitions that are more engaging for readers.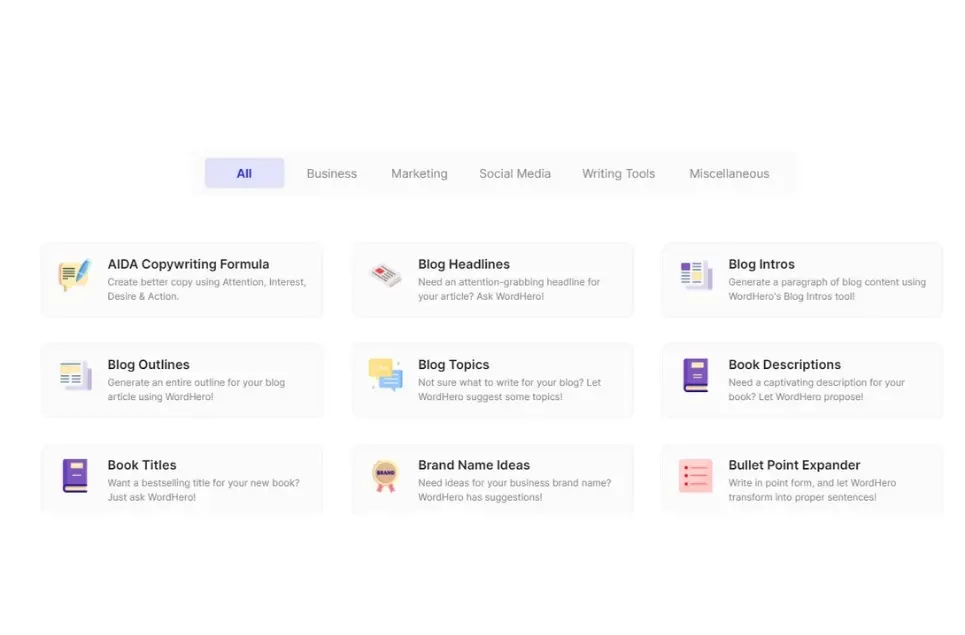 WordHero, the AI content writing service, is transforming the world of writing. Many people use WordHero every day to get written articles on various subjects for themselves, their company, or their personal blog. 
What are the Key Features of WordHero?
 WordHero comes with many excellent features, and that's why I put it number one position. Some of the best features of WordHero AI Writer are the following:
Generate Business Content

Book Descriptions
Book Titles
Brand Name Ideas
Marketing Ideas
Product Benefits
Product Descriptions
Product Names
Startup Elevator Pitch
Startup Ideas
Startup Slogans
Startup Value Propositions

Generate Marketing Content

Blog Headlines
Blog Intros
Blog Outlines
Blog Topics
Cold Emails
Email Subject Lines
Generic Emails
FAQs
Facebook Ads
Google Ads Headlines
HSO Copywriting Formula
Listicles
Offer Ideas
SEO Descriptions
Website About Us Page
Welcome Emails

Social Media Content

Personal Opinion
Social Media Post Ideas
Video Descriptions
Video Ideas
Video Titles

Writing Tools

AIDA Copywriting Formula
Bullet Point Expander
Content Rewriter
Descriptive Expression
Example Provider
Grammar Corrector
PAS Copywriting Formula
Sentence Expander
Tone Changer

Other Content 

Cover Letters
Fictional Story Ideas
Personal LinkedIn Bio
Poems
Product Reviews
Quora Answers
Song Lyrics
Isn't it amazing that you can get all these features within a single AI writing tool. Therefore, there is no need to buy any other one. So, here comes the Deal: Get WordHero AI Writing Tool Lifetime Deal for just $89 and get more perks that no other tool will ever provide.
WordHero Appsumo Lifetime Deal: 
WordHero's usual price on their website is much higher, and you need monthly or annual subscriptions. However, with Appsumo, say Good Bye to Subscriptions. You can get WordHero for a lifetime deal with a one-time payment of $89. Here are some of the benefits you will get that are not available anywhere else.
WordHero AppSumo Deal Terms:
Lifetime access to WordHero Plan
Redeem code(s) within 60 days of purchase
All future WordHero Plan updates
60-day money-back guarantee, no matter the reason
WordHero Appsumo Lifetime Deal Features:
Generate Unlimited Copies forever (Limited time offer)
Access to all 40+ tools and still counting
Access to future AI writing tools
Access to new long-form editor
Discover topic ideas & create engaging content
Write sales and marketing emails that sell
Support for 10+ languages (coming soon)
Generate catchy captions for social media
Write excellent product titles & descriptions
Brainstorm viral marketing & startup ideas
If you want to grab this fantastic limited-time deal, click the button right now before it's too late.
Rytr Review:
Rytr is another AI content writing tool that can help marketers, freelancers, bloggers, etc., in their daily writing tasks. It is another excellent tool to save time and money. People can get excellent copies for their business and website and generate more leads.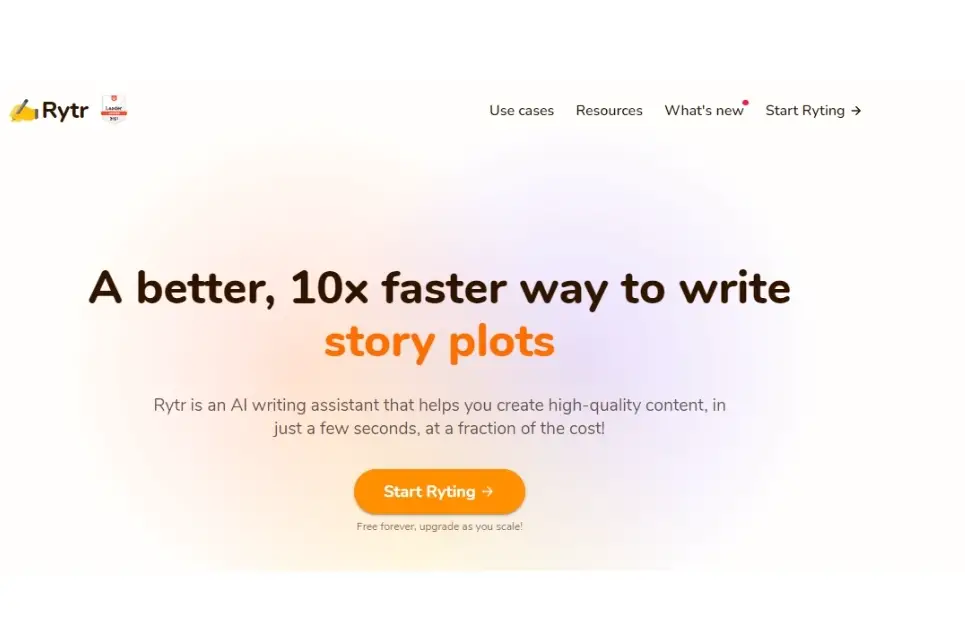 What are the Key Features of Rytr?
Rytr comes with many excellent features that can help copywriters in reducing their work. Some of the best key features of Rytr are the following:
Blog Idea & Outline
Blog Section Writing
Business Idea: Pitch
Copywriting Framework: AIDA
Copywriting Framework: PAS
Email
Facebook, Google, and LinkedIn Ads
Interview Questions
Job Descriptions
Landing Page
Website Copies
Magic Command
Post & Caption Ideas
Product Description
Product Description (Bullet Points)
Profile Bio
Question & Answer
Reply to Reviews & Messages
SEO Meta Description & Title
Song Lyrics
Story Plot
Tagline & Headline
Testimonial & Review
Text Editing: Append Content
Text Editing: Expand Content
Text Editing: Improve Content
Text Editing: Paragraph Content
Text Editing: Reword Content
Text Editing: Shorten Content
YouTube Video Channel Description
Video Description
Video Idea
If you go on its website, you will see a $29/month subscription. However, I will show you a way that can help you to get this software Lifetime only for $39. 
Rytr Appsumo Lifetime Deal ($39):
Here comes the lifetime deal of Rytr on Appsumo. People can get this AI writing tool just for $39 instead of paying $290 per year or $29/month. The features and deal terms are the following.
Rytr Appsumo Deal Terms:
Lifetime access to Rytr
Redeem code within 60 days of purchase
All future plan updates
60-day money-back guarantee, no matter the reason
Rytr Appsumo Lifetime Deal Features:
Access 20+ use cases and templates
Write sales and marketing emails that get replies
Discover ideas and write engaging content for blog
Generate creative, catchy copies for social media
Write product, job, profile, video descriptions
Generate interesting captions for Instagram posts
Access to premium, members only community
Dedicated account manager & priority email support
Support for 10+ languages (coming soon)
Access to all future updates and features
Allows you to generate 50,000 characters per month
If you are interested in this limited-time lifetime deal, click the button below and grab this amazing offer right now.
Conclusion:
Since AI writing tools like Jarvis, WordHero, etc. are trending right now as they have significantly reduced the efforts, time, and money. I have mentioned the two best AI writing tools WordHero and Rytr. However, I would personally suggest everyone WordHero as it is one of the best AI writing tools and has more features like unlimited copies. I am personally using WordHero and find it an amazing AI tool.
While I am discussing AI writing tools for blog and copywriting, we should not forget the role of SEO. We should also have a Budget SEO tool that will help all our problems and help us rank top on Google. Check out the Ranktracker Review.
Related Questions:
What are the best SEO Tools?
Some of the best SEO tools are the following:
Ahref
MOZ
SEMrush
Ubersuggest
I will recommend Ranktracker among these as it is currently offering a lifetime deal for a limited time.
What are the best AI Writing Tools other than WordHero and Rytr?
There are many, however, they are expensive compared to the deals I mentioned above. Some of them are the following:
Jarvis AI Writing Tool
WriterZen
WordTune
ProWritingAID
Sapling