Looking to get a budget SEO tool that has all the features? Your research ends here. Ranktracker is an SEO software program that helps website owners keep track of their rankings in Google. 
SEO experts developed Ranktracker to be both beginner-friendly and feature-rich. It has many excellent features to help you analyze your traffic data, identify areas of opportunity, examine keywords for future campaigns, and even monitor competitors' rankings.
With the Ranktrack SEO tool, users can track keywords, see search volumes by keyword queries, estimate the number of monthly searches for a given term, keyword difficulty, Website Audit, and much more.
Is Ranktracker Best Alternative to MOZ, SEMrush, and Mangools?
The simples answer to the question is "Yes." It is quite a new SEO tool in the market but already impacts the users. Even most of them said that it is the new SEO solution and best alternative to MOZ, SEMrush, Mangools, and some other SEO tools, which requires you to pay hundreds of dollars every year. 
With Ranktracer, people can make their website ranking high by using its different excellent features. For example, by researching and tracking keywords, you can rank your website high on Google SERP. 
What are the features of Ranktracker?
It comes with many excellent features that will be helpful for SEO Experts, Bloggers, Marketers, and so on. Some of the most highlighting features are the following:
Track keywords on a daily basis that will help in building up your strategy
Discover high-traffic keywords
Search keywords Globally
Check Keyword Difficulty (KD)
SERP Results
Click Per Cost (CPC) against a Keyword
Pay Per Click (PPC)
Keyword Search Volume
Location
Keyword Trend
Website Audit
In-depth Health Check
PPC Savings
Keyword finder
Actionable SEO tasks
SEO Report Generation
And many others. The list does not end here. With Ranktracker, you can save thousands of dollars by purchasing expensive SEO tools or hiring an SEO Expert. You can handle all your website SEO yourself with this simple and easy-to-use SEO tool.
Who Should Use Ranktracker SEO Tool?
Are you a freelancer, Digital Marketer, Blogger, SEO Expert, SEO Agency, etc.? Rank Tracker is an SEO tool for professionals who are interested in ranking their business at the top of Google. The Rank Tracker SEO software typically starts from $6 per month (I'll show you later how you can get Ranktracker $49 Lifetime deal), but it offers a free trial to see if you want to continue using it. 
If you're struggling to rank your business and website in Google without the use of any software, this is a great tool and worth trying out before investing in more expensive monthly subscriptions. 
How Does Ranktracker Work?
The working of the Ranktracker SEO tool is quite similar to other SEO tools. It is a web-based tool so, you don't need to install anything on your computer. 
First, you need to check which plan is suitable for you. Then, after choosing the plan, you need to make a payment and register your account on Ranktracker to get access. 
After logging in, you will see the Ranktracker dashboard. On the left side, there is a menu so you can select which option you want to use.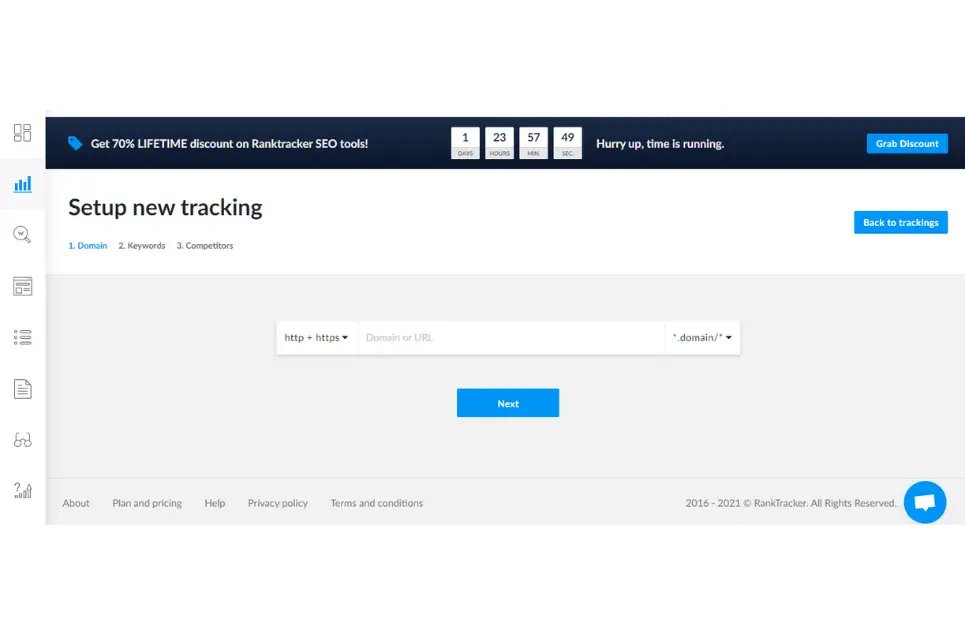 Go to "keyword finder" from the left menu and enter the keyword in the search box to find keywords.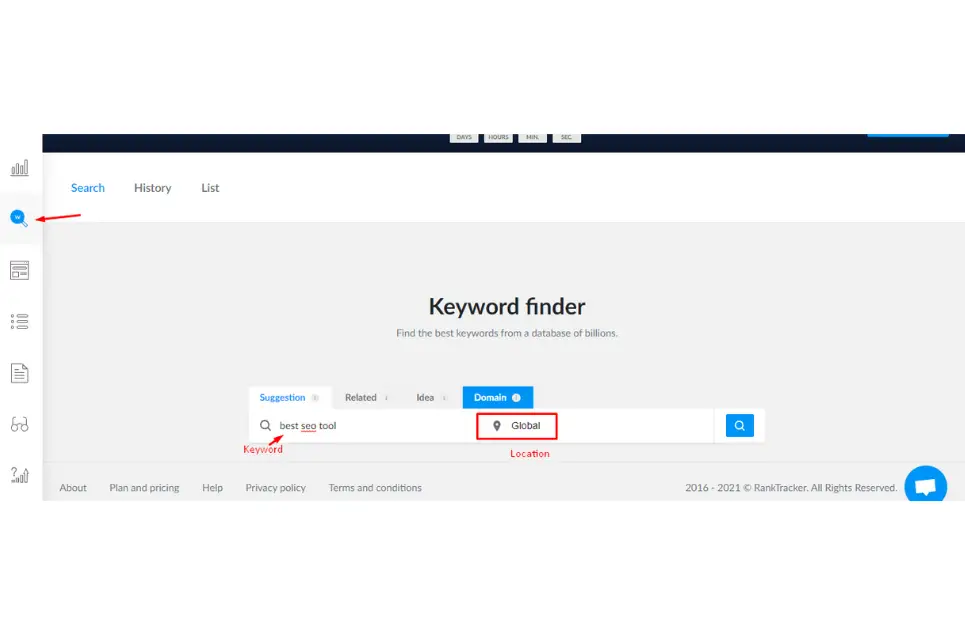 You can see the "keyword finder" results below. You can also export the list in CSV format.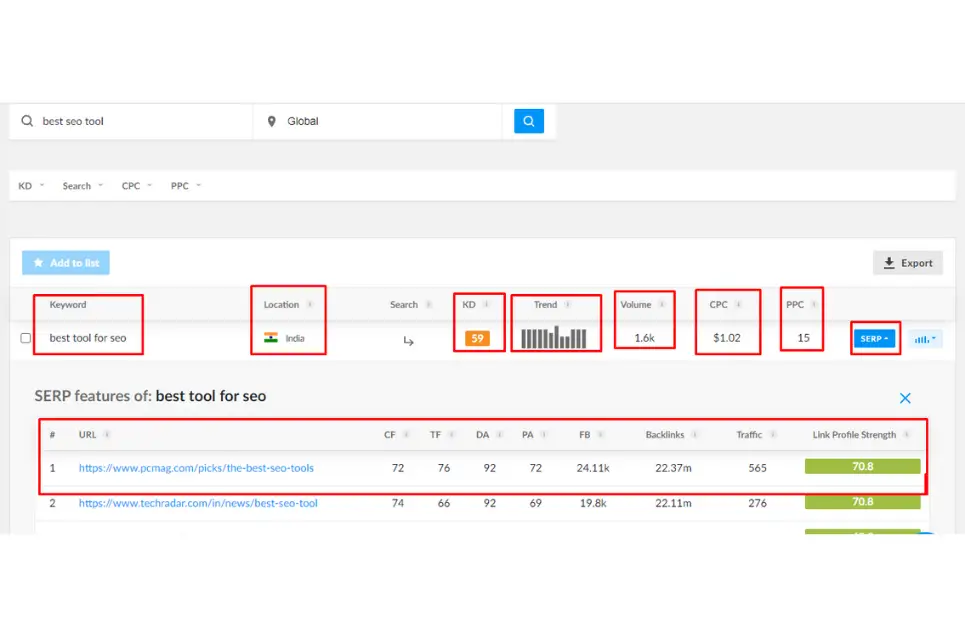 Similarly, you can also perform other SEO tasks with the Ranktracker SEO tool. If you want to try the tool yourself, here is the Ranktracker free trial.
What are the Key Highlighting Features of Ranktracker?
As I have already mentioned features of Ranktracker above, here are some of the key highlighting features that will make you "Wow." And this "Wow" you make not because of the features as you can get them from other SEO tools but because of the price as I'll tell you, people, shortly.
Automatically keyword tracking on a daily basis so people can analyze their website performance.
Users can discover high-traffic keywords that will bring new visitors to their website.
You can find keywords Globally, Country-wise, Region-wise, and City-wise.
You can get Keyword Suggestions, Related keywords, and Keyword ideas.
A 10-day free trial will help you to analyze whether the Ranktracker SEO tool is good for your needs or not. So, no risk of wasting hundreds of dollars monthly.
You can check the keyword SERP for desktop and mobile separately.
SEO Checklist feature will help people to keep track of their SEO activities.
Is Ranktracker Lifetime Deal Still Availabe?
Unfortunately, the lifetime ranktracker deal on Appsumo is no more available. So, you can skip the below part. However, Ranktracker is now available on a Monthly/Annual subscription with 7-Days free trial. You can check all the Ranktracker Pricing.
Ranktracker $49 Lifetime Deal On AppSumo: (Not Available) 
Here comes the most important and exciting part, "Ranktracker Lifetime Deal", which means you only have to pay once and use the tool for the lifetime. Unfortunately, no other SEO tool like MOZ, SEMrush, Ahref, etc., is providing you with this offer, and I'm guaranteed that they will never offer it in the future as well. 
The Ranktracker Appsumo lifetime deal saves you hundreds of dollars and provides you with some excellent unlimited features. So, let's check them all out now.
Ranktracker Appsumo Deal Terms:
The Appsumo deal terms are the following:
Get Lifetime Access to Ranktracker Premium Plan
Active your license within 60 days after purchase 
No codes or stacking. Choose the plan that's right for your needs
All future Premium Plan updates
Ability to upgrade or downgrade lifetime license tiers
GDPR Compliant
60-Days Money-back guarantee
Ranktracker Premium Plan Features:
The following features are all available in all license tiers
Add unlimited users
Add unlimited domains
Daily position update frequency
Unlimited schedules reports
Actionable SEO tasks
Keyword Difficulty
Keyword Discovery
PPC savings
Ranktracker AppSumo Pricing:
Remember, I mentioned that the starting monthly plan price is $6/month which means $72 per year and that too with only a few limited features. Here is the Appsumo Lifetime Deal for Ranktracker, which will give you lifetime access after a one-time payment. 
License Tier 1
License Tier 2
License Tier 3
License Tier 4
One-Time Purchase of
$49.00 | $768.00
One-Time Purchase of
$99.00 | $883.00
One-Time Purchase of
$199.00 | $1068.00
One-Time Purchase of
$299.00 | $1428.00
All features above included
All features above included
All features above included
All features above included
100 daily tracked keywords
200 daily tracked keywords
500 daily tracked keywords
1000 daily tracked keywords
20 competitors per domain
20 competitors per domain
20 competitors per domain
20 competitors per domain
1,000 monthly keyword lookups
1,000 monthly keyword lookups
1,000 monthly keyword lookups
1,000 monthly keyword lookups
500 keyword suggestions per search
500 keyword suggestions per search
500 keyword suggestions per search
500 keyword suggestions per search
500 monthly SERP checks
500 monthly SERP checks
500 monthly SERP checks
500 monthly SERP checks
10,000 pages audited monthly
10,000 pages audited monthly
10,000 pages audited monthly
10,000 pages audited monthly
Ranktracker Appsumo Lifetime Deal Plans
So, if you are interested and want to grab this awesome lifetime deal, then click on the following button. 
Related Questions:
What are the best Video Animated Software for whiteboard, 2D, and 3D Videos?
There are many animated video maker software like:
Doodly
Create Studio
Doratoon
Which is the best free Plagiarism Checker?
There are many, but "smallseotools" is one of the best plagiarism checker tools.
What are SEO tools good for YouTube SEO?
There are many tools that can be used for YouTube SEO. Some of them are the following:
TubeBuddy
VidIQ
YouTube Analytics
Google Keyword Planner
Keyword Tool