The need for animated videos is increasing day by day to attract more customers and sell products. Doratoon is a new addition to the existing list of online animated video maker software.
Doratoon is a great online tool that allows you to create stunning, beautiful, and attractive animated videos for your website and YouTube channel. Some of the highlighted features of Doratoon are the following:
Create stunning animated videos
Thousands of customizable templates
Royalty-free media assets like music, etc.
Soom- Video Presentation Tool
Create videos for different purposes like Business, Educational / Knowledge base, Marketing, Products, creative, personal, etc.
Animated characters
AI dubbing
Smartly generate sub-titles
PPT- video conversion
And much much more
In this article, I am going to give you a complete review of this tool "Doratoon", so you will know what are the features and is right for you or not. So, let's start the review.
Doratoon:
Just like other animated video makers, Doratoon is also an online tool that allows you to create stunning videos for your business and other purposes and attract and convert visitors to actual buyers.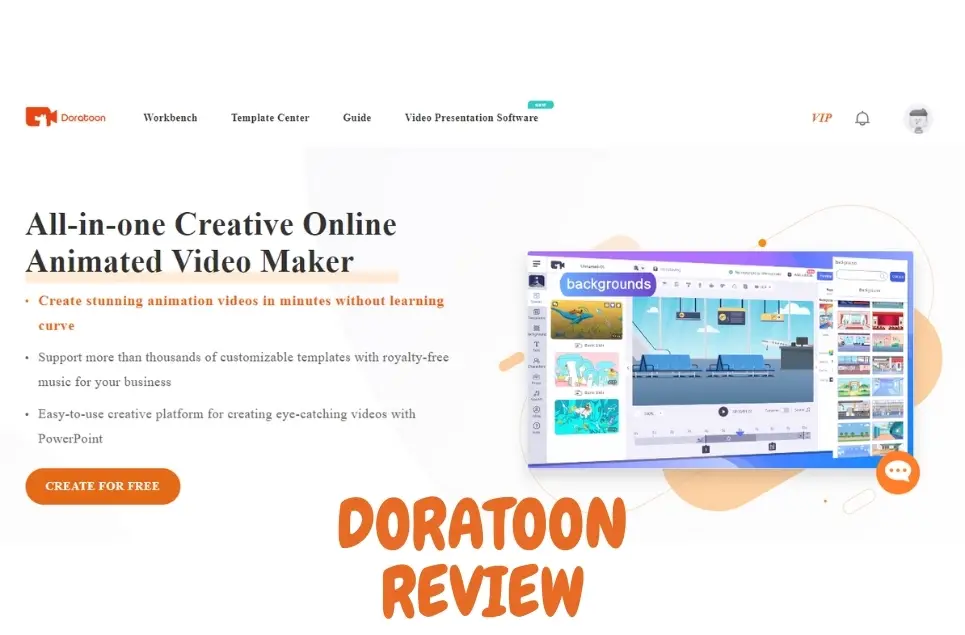 There has been seen a boost in the demand for animated videos in recent times. They look attractive and that's what a business owner wants. Doratoon allows you to create videos within minutes. 
Let's explore and discuss Doratoon more.
Is Doratoon Free or Paid?
When we talk about online animated video maker software, we usually come across pretty expensive software right. Some of them offer free 7-days or 30-days trials while others won't offer any trial. 
Doratoon comes with both free and paid versions. It means that you can start using this tool right now without paying a single penny. However, as we know that there are limitations with any free software, the same case applies here as well. 
With Doratoon free version, you won't have much access to features and premium templates. You are not allowed to use videos commercially with the free account. If you want to use your created videos commercially then you have to upgrade to a VIP account that costs $49/month. It is quite costly compared to other software like Create Studio which offers a $ 67-lifetime deal.
So, it depends on your usage how you want to use it. For practice purposes and for beginners, Doratoon can be the option as you can use its free version. However, I will not recommend upgrading to VIP for $49/month as it's expensive and not worth it.
Doratoon Features:
Doratoon comes with many exciting features and I will try to cover most of them in this doratoon review. Some of the most highlighted and exciting features are the following:
You can create stunning animated videos within minutes without having any experience or background.
There are thousands of premium customizable templates that you can use for your business according to your requirements.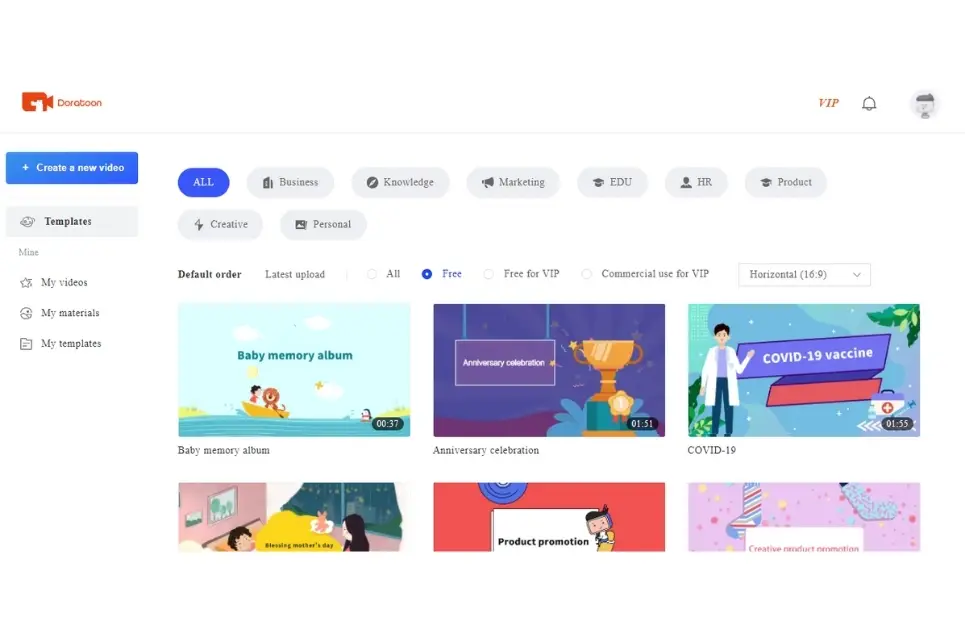 There is a huge library of royalty-free music for you.
You can create videos for:

Business
Marketing
Education /Knowledge-based
Personal
Creative
Product Promotion and much much more

Animated characters with more than 8000 facial expressions and actions allow you to create more interactive, effective, and attractive videos for your business.
A.I Dubbing or Audio generation tool from input text. You can create high-quality audio which is important for giving messages via animated videos.
Doratoon goes ahead to other animated video makers when it comes to smart subtitling. It can create subtitles automatically through AI technology from the audio. So, you don't need to do any more hard work for making sub-titles.
You can import your PowerPoint presentations (PPT) and convert them to videos with a single click.
Doratoon VIP/Pro+ Features:
No Doratoon Branding
HD (480P, 720P, 1080P) Quality videos download as MP4
Advanced animation
Intelligent speech production
Drawing of intellectual
Import PPT
No Maximum length limit
Unlimited number of drafts
Unlimited number of works
Unlimited space capacity
Restore deleted work in 30 days
Commercial usage rights
Royalty-free music
Unlimited access to Royalty-free objects
Unlimited access to thousand plus premium templates
Unlimited premium exports
Pros & Cons of Doratoon:
Pros:
Free Account Available videos
Thousands of Customizable Templates
Smart Subtitling
Animated character with 8000+ actions and expressions
HD quality videos
Cons:
Expensive VIP account – $49/month
Doratoon branding on videos created with the free account
Needs to optimize tool more as sometimes it slows down
Limited free templates
No 3D Videos
Soom- Video Presentation Software:
If you are a teacher, mentor, coach, YouTubers, etc., and want to make an attractive presentation video for your viewers then Soom can be the option for you. It is the sub-tool of Doratoon which we can download separately and then login with the same login credentials that we use for Doratoon.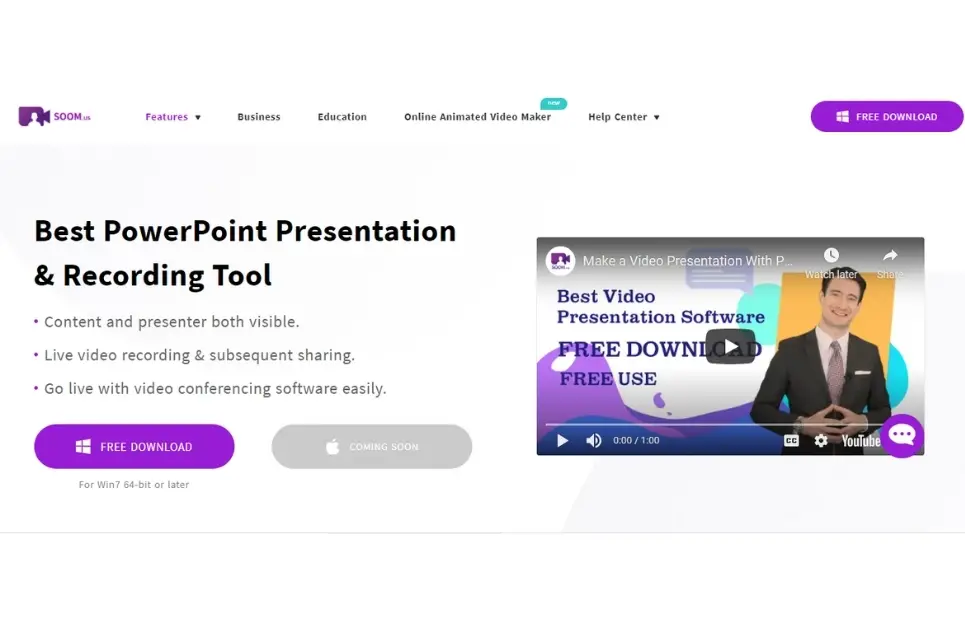 Features:
Some of the features of the Soom are the following:
Content and Presenter both visible 
Live video recording and sharing
Available only for Windows right now
Go live with video conferencing software like zoom, skype, Zoho, discord, etc.
Import PowerPoint
Virtual Background
Effects
High HD Quality exports
Soom can be useful for:

Online Education
Business Cooperation
Personnel Training
Popularization of Science
Product Marketing
Enterprise Recruitment
School Education

You can start with Soom with three easy steps:

Select a Presentation template
Replace with your content
Click to start a video conference or record a video

Soom is free to download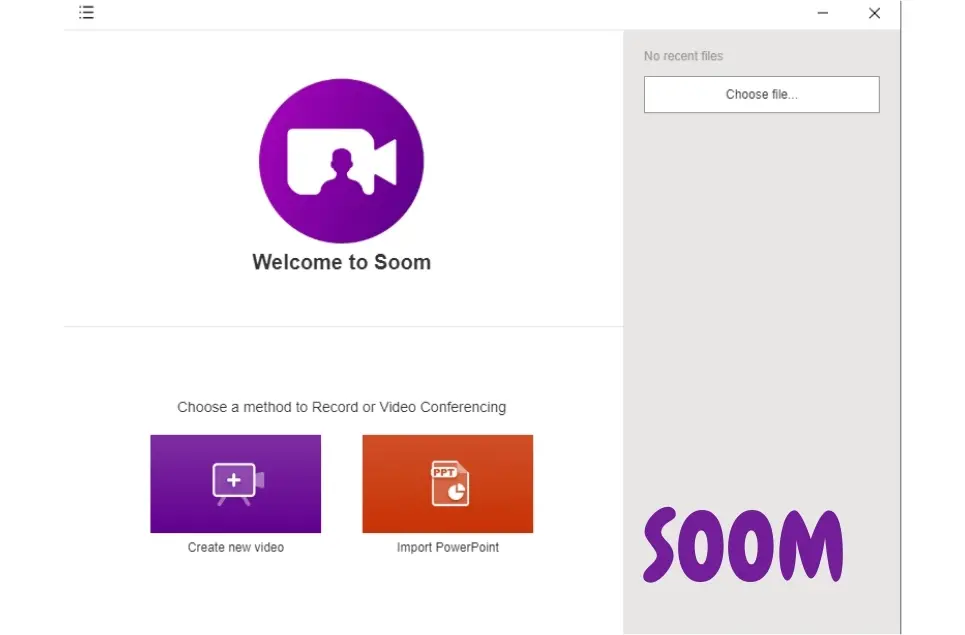 Related Questions:
Which are the other animated video makers that are the best?
There are many. Some of them are the following:
Create Studio
Vyond
Powtoon
Doodly
Which software is used for making animated videos?
Above mentioned software is perfect for beginners. However, they are not industry standards. The best software for making animated videos keeping in mind industry standards is Autodesk Maya.
What software is the best for 3D animation?
One of the best software that matches industry standards for 3D animations is the Blender. If you are a beginner and still want to make 3D animated videos then go with Create Studio.