Are you a Marketer or a Developer? Do you want to do an android app promotion? Well, if your answer is yes then this article is for you. 
Android apps are the future of technology. As more and more people switch to using their mobile phones for everything, there is a huge market for app developers. This blog post will tell you how to promote your Android app so it can be seen by all potential customers. 
We can promote our android app in multiple ways. Some of the best ways are the following:
App Store Optimization (ASO)
Run giveaways
Run loyalty programs
Run effective mobile ads
Create a cool video tutorial for your android app
Submit app to android websites
Run an android blog
Use Google AdWords
Use android video ads
Promote android apps in press releases
There are many more tips in this post that I am going to cover. So, stay tuned!
25 Tips to Promote Android App:
We all know how difficult it can be to get started with android app promotion. Google has done a great job at making it easier, but there's still more that you could do to ensure your android app is gaining traction in the android market. Here are the top 25 tips you can apply to promote your android app: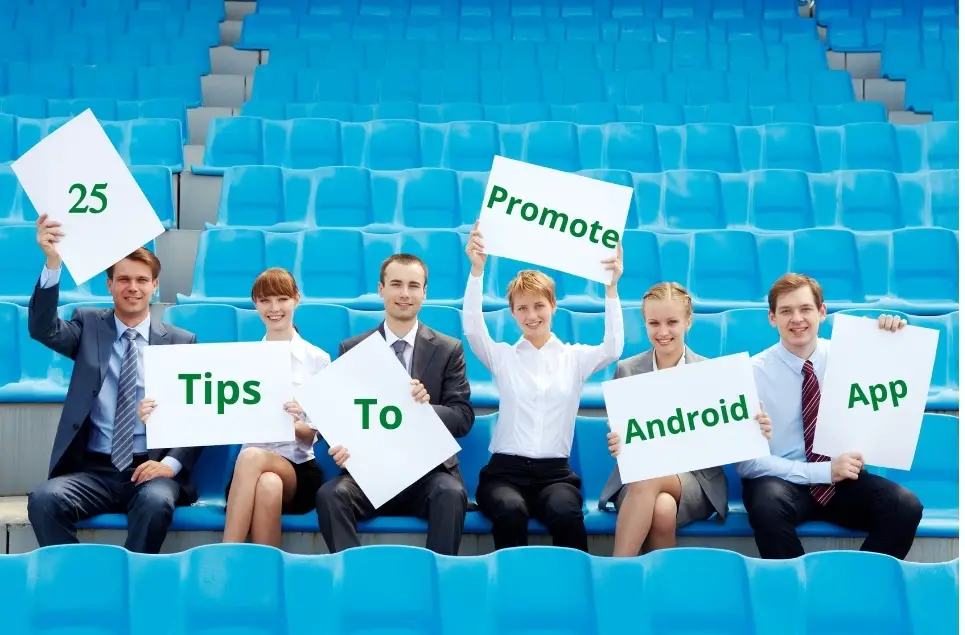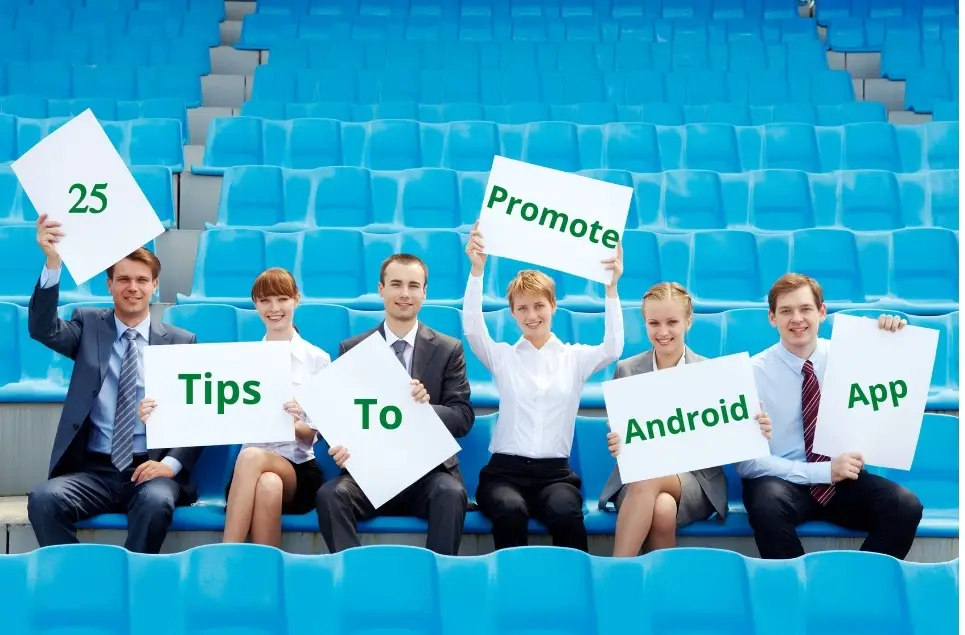 App Store Optimization is one of the most famous, common, and easiest ways to promote your app on the Google Play Store for free. You need to do well keyword research and make optimize Title, short and long descriptions accordingly. Choose the right category so that potential users can land on your app while browsing a particular category.
If you're looking for immediate android app promotion, this is one of the best strategies out there. This tactic involves giving away some sort or other prize as part of an android giveaway competition – and offering prizes such as Amazon gift cards, gadgets or vouchers work well because people tend to share the contest with their friends and family members who might also benefit from entering in the contest. The result is lots of free app promotions!
Run Android App Loyalty Programs
Run loyalty programs to encourage existing android users to keep on using your android app. The idea is that if you want to keep on promoting your app, running loyalty programs is a good way of doing it because your current android users are already familiar with the service or product you're offering.
Run Effective Mobile Ads W
One way to promote an app is with mobile ads using Google AdWords. You can create and run an ad and target your potential audience. Your app will start reaching your target audience and If they click on the ad, then they can go to an Android Market and download your app. Promoting your app through Google AdWords is very popular. 
Create A Cool Video Tutorial For Your Android App
Another way to promote your app is to make a tutorial video. You can teach people how to use your app, and that way they will know all of its features.
Promoting android apps through app tutorials is a very popular way. People love android tutorials. They even make android tutorial videos for google play store android apps.
Submit
There are many android websites where you can submit your app. You can write a description of your app, give screenshots, and add links. It is free to upload android apps on most Android apps websites.
Make Android App Reviews
One promotion strategy that can be effective is asking Android users to leave reviews. If your app has been out for a while, you should search the web and find android reviews of it – contacting the android users who have left reviews on blogs and android forums is a good way of getting more app promotion.
Run An Android Blog
If you want to promote your App and increase downloads, it's also important to run an Android Blog. You'll get many benefits from writing posts about developing apps, including increasing exposure via social media channels such as Instagram or Facebook, increased authority in the eyes of Google, etc., which could lead to higher rankings in search engine results, and a greater app download count.
Use Android Video Ads
Video is the fastest-growing media type on many sites, including social media channels like YouTube or Facebook. The android app market has followed suit with video ads in the play store. There are several companies that have android ad campaign services for a low price. You can also create a Video ads campaign for YouTube which is a big market.
Use Android Banner Ads
Banner android ads take a static image and animate it so that it pops up from the user's app store when they are browsing. The android banner has become very popular for android apps, especially in gaming. Many of these companies will also create custom android banners for you at a low cost. Promoting apps with banner ads is simple and effective.
Android Push Notifications
Use android push notifications. Android push notifications are sent directly to android phone owners who have downloaded your app.
Promoting your android apps with android push notifications is a great app promotion strategy because it's free and can be targeted by country, OS version, or device model – so you don't waste money on android users that won't customize the ads for their individual android devices.
Link Exchange With Other Android Apps
You can promote your app by linking to other Android apps in the Play Store. This helps you gain more exposure as well as build relationships with others in the Android community, which will create new fans for your app. You can also pay companies to do a link exchange with them – app promotion does not always have to be free.
Create Android Deals And Coupons
Android coupons are a great way to gain app downloads quickly while selling your apps at a discount. This is an android deal that works for both app owners as well as users looking for android apps on sale. You can use third-party website generators such as Groupon, or build your own with open source code.
Promote Android Apps In Press Releases
If you've done something unique or remarkable with your app – make sure the world knows about it by writing up a press release and submitting it to Android websites like Android Headlines. This will lead to more exposure to your android apps as well as build relationships with the press.
Promote Your App On Facebook
There are several popular websites that will help you promote your app on Facebook, including like4like.org or AppTrailers. These websites offer one of two services – either a free service where users can visit and vote for your app website or paid services where they will actually put your app link up to be shared by all their fans on Facebook (similar to how Kickstarter uses it's own platform to share projects). 
Whichever option you choose, promoting your android apps through Facebook is a great way to get more exposure and downloads. You can also run Paid Facebook ads to gain more exposure and downloads.
Promote Your Android App With Email Marketing
Email marketing is still one of the most effective ways to drive traffic back to your website, including your android app. You also have the advantage of being able to target your audience based on demographics and location. App promotion doesn't get much better than that!
Promote Your Android Apps On Youtube
There are many websites like YouTube that are dedicated to promoting android apps through user-created videos – and they work really well if you can come up with a video that's interesting enough to go viral, otherwise, you might not reach very many android users who are actually looking for a new app. 
However, before you try this strategy, make sure you do it right by researching other successful app videos in the same genre as yours (for example, how ToonDoo promotes their own ToonDoo application). There is no point in doing it if there is nothing unique about your app or video.
Promote Your Android Apps On Reddit
Reddit is a very popular website that lets users share and vote on interesting links – from news to personal stories to, yes, even Android apps. There are several places on Reddit where you can post your new app to gain more exposure as well as engage with other members who may have similar interests. Just make sure you're posting in the right subreddit! 
For example, if you're promoting an astronomy application, don't post it in the r/pics subreddit because these posts are for sharing images only. You want to be in subreddits such as /r/androidapps or /r/apkdownloads which will allow you to promote your android apps.
Promote Your App With PPC
To promote your app through PPC, you will need a PaD network that supports both Android and iOS (such as Admob). Then the setup process is quite simple – you just replace the default banner with one of your own along with a copy which encourages people to either download or buy/subscribe to your app. 
This is a great way to draw in new users who are actively searching for an android application since they don't even have to visit the Play Store. They can simply go on their phone and download them right away. A lot like QR codes, but more effective and without all those barcodes everywhere!
Promote Your Android App On Social Media
Promoting your app on social media is also easier than you think. The key is to set up a landing page for your android application with some basic information and links such as install buttons (for those who already have the android market installed) as well as buy/subscribe buttons (if it's not free, or has in-app purchases).
Pinterest is another great platform to work with. Simply post an image about your app along with the download link along with some copy or tagline that explains what it can do and why people should be interested enough to check it out! People are constantly looking for ways to increase their productivity – so take advantage of this need!
Promote Your App With Tools Such As Bitly
Using links to help promote your app is a great way to get the word out there. Keep track of which ones return results and which don't – you might also want to test out various shortened links from services like Bitly since it's not always easy or possible to use an affiliate link (such as Amazon). 
Plus, people have become conditioned enough that when they see a long string of digits in front of a link, they immediately assume it's some tracking code and avoid it like the plague! Using a shortener helps eliminate the fear factor and goes directly toward what you're trying to promote.  
Promote Your App By Participating In Various Q&A Communities
While Android users primarily use Google's own Play Store to download their favorite apps, there are a ton of online communities where people go to talk about all kinds of things. Some of these communities include Reddit as well as Stack Exchange (which has separate sections for Android development and for general programming questions). 
Participating in these discussion boards is a great way to get the word out about your android application without being too pushy or sales-y – instead of focusing on the community aspect by offering advice or answering questions that have already been asked.
In addition, you can also promote your android app through various blogging sites such as Medium or even Quora. Simply look for other people who are interested in your application and make it known that you have something they might be interested in checking out!
Promote Your Android App By Using The Right Hashtags
Believe it or not, there are some pretty interesting marketing opportunities that can be had on social media sites like Twitter. While most of these are paid services (such as advertising), you can actually use any number of relevant hashtags for free!
You never know what will catch someone's eye and encourage them to check out your android application…which in turn means more downloads for you! 
For example, if you're tweeting about a new android game, you might want to try using #androidgame or #playstore – or even something like #gamernews (assuming this is related to the type of game). If instead, your business has an actual Android app that helps people get more out of their phones, you might use hashtags like #androidapps or #applications – the possibilities are endless!
Promote Your Android App By Doing Other Promotional Activities
Sometimes it's not enough to simply build an application and put it up for sale. You also have to convince people that your product is worth downloading, and in some cases, this means offering a few promo codes so that anyone can actually test it out before they buy (or at least making sure to offer some sort of demo version).
In addition, you could easily create some interesting videos which showcase exactly what your android application does as well as why someone should download it…and then post those videos on YouTube or any other video hosting site. 
The great thing about this is that you can target other people who are simply looking for videos on the subject – not necessarily interested in your android app. If they like what they see, there's a good chance they'll check out what you have to offer as well!
Promote Your Android App By Promoting Other Stuff
Last but certainly not least, another great way to promote your android application is through the promotion of similar products or services! 
This could be something as simple as posting about certain apps that you think all your current customers should have installed on their phones…or perhaps something a bit more involved such as offering an affiliate link where every time someone downloads and purchases an android app which uses your link, you get a small percentage (without costing the other person anything extra). 
In any case, you don't have to limit yourself just to promote your android app – there are plenty of ways to promote related products and services as well!
Conclusion:
Now that you know how to promote your android app, you won't have any problem ensuring android users will find your android app when they search the android market! 
There are also the best must-have android apps that you should check out especially if you are a freelancer, businessman, or worker to make your life easy and smart.
Related Questions:
Which tool/IDE can be used to create Android Apps?
Android Studio is one of the most used and recommended IDE for developing professional-level android apps. Android Studio is an official product of Google and so is the most trustworthy as well.
What are the best communication apps?
There are thousands of best communication apps available in the Google Play Store. Some of them are the following:
Whatsapp
Whatsapp Business
Skype
Telegram
IMO
Is there any fee for creating Google Developer Account?
Yes, there is a small one-time fee of $25 that you have to pay to create a Google Developer account. It is very important if you are a developer and want to publish your app on the Google Play Store.