Animated Videomaker software is in demand these days, and the popularity of these video animation software is increasing day by day. Every company, website, business, freelancer, and so on is looking to attract customers and leads. For this purpose, animated videos are a great way to attract more and more potential buyers and are helpful in converting them to actual buyers. 
There are many online animated video maker software that is helping businesses to grow more and more. These animated video software are very useful to create beautiful and attractive videos within minutes. So, no more hard work needs to do. You can create the following types of videos with this animated software:
Video Presentation 
Slides/ Presentation
Marketing Videos
Ad Videos
3D Animated Videos
2D Animated Videos
YouTube Intros
YouTube Outros
Whiteboard Animation
Doodles
Training/ Educational Videos
And much, much more. The limit is the sky. You can create as many videos as you want with your creativity.
Today, I will share the five best online animated video maker software that can make your life easy and help you grow your business. You can make effortless Awesome looking videos and presentation slides within few minutes. The list of 5 best-animated software is the following:
Create Studio
VideoCreator.io
Doodly
Doratoon
Wideo
Create Studio:
Create Studio is one of the best animated video makers when it comes to 3D explainer videos, along with 2D and doodle videos. You can create breathtaking videos for your business and even sell them to clients if you are a freelancer.
Before, you need to pay hundreds of dollars to freelancers to make just 30-60 seconds 3D animated video. It was expensive plus it required a lot of time. So, it is a loss of time as well as money. Create a Studio to solve the problem for you. You don't need to have any technical knowledge as it is as simple as creating a Gmail account.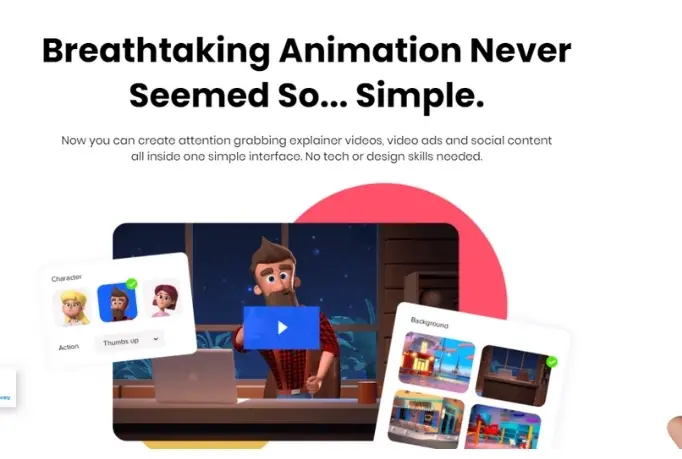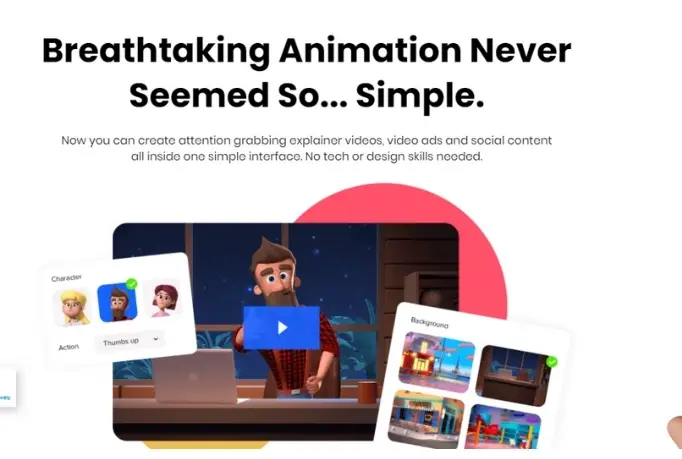 Unlike some other platforms, Create Studio is not a cloud platform. After payment, you need to download the software setup and install it on your computer. You can then log in to the software and use the features you have access to. 
Following are some of the features of Create Studio:
You can create:

Promotional Videos
3D Explainer Videos
Doodle Sketch Videos
Stomp Teasers
Character Explainer's
Text Animation
Logo Intros & Outros
2D Explainer Videos
YouTube MoGraphics

Create attractive Sales Videos for Landing Page
Different shapes and sizes, including square, landscape, and vertical
Create awesome social ads
Choose different types of hands for Doodle sketches
Dynamic Camera Movements
Custom Animations and motion presets
Unlimited Exports
Animated Characters
Motion Builder
SVG Compatible
Green Screen
Create Masks
Huge library of copyright-free images, videos, and audio
Text to speech 
There is much more that I can't cover here. For further details, checkout Create Studio. There is also a lifetime $67 deal that can allow you to do more than enough. However, there are also some limitations to this deal. Like, Copyright-free audio files are not included in the $67 deal. The characters are also limited.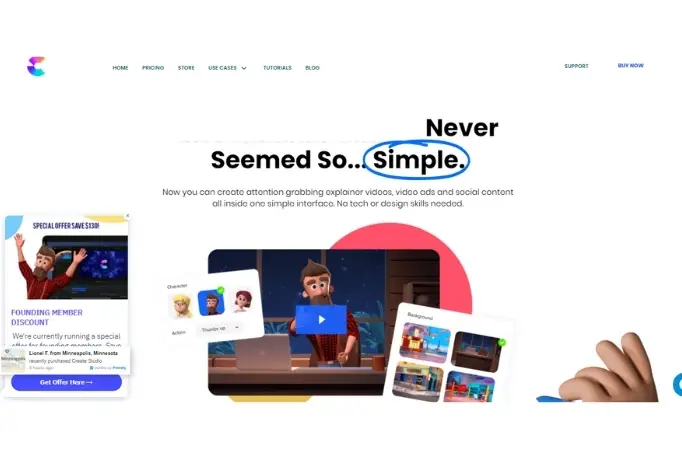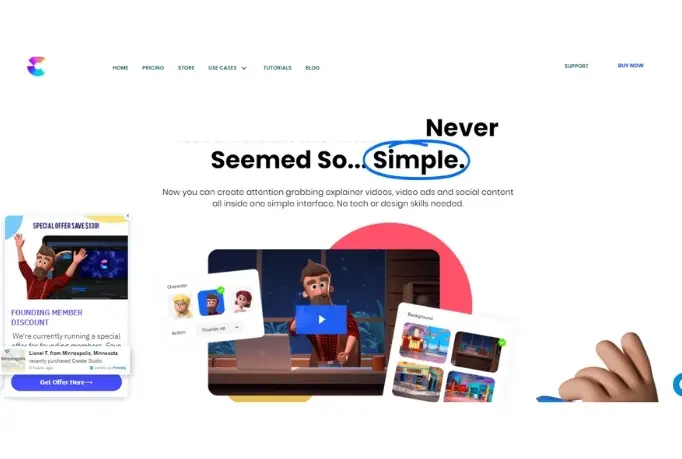 VideoCreator.io:
Another animated video creator is Videocreator.io which can help you to make awesome animated videos. You can transform your ideas into actual animated videos in any shape, language, and topic.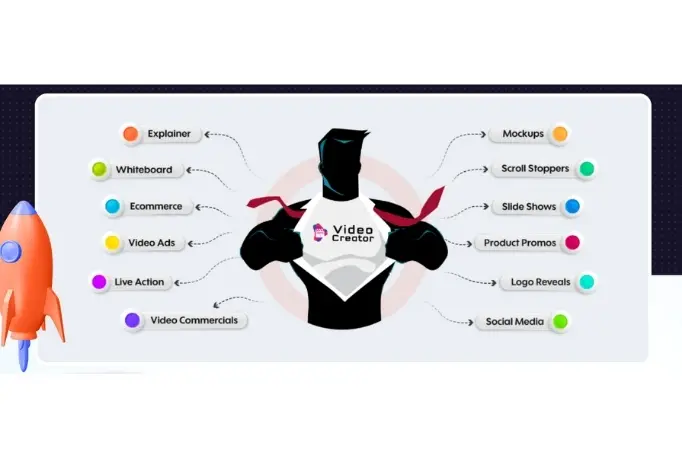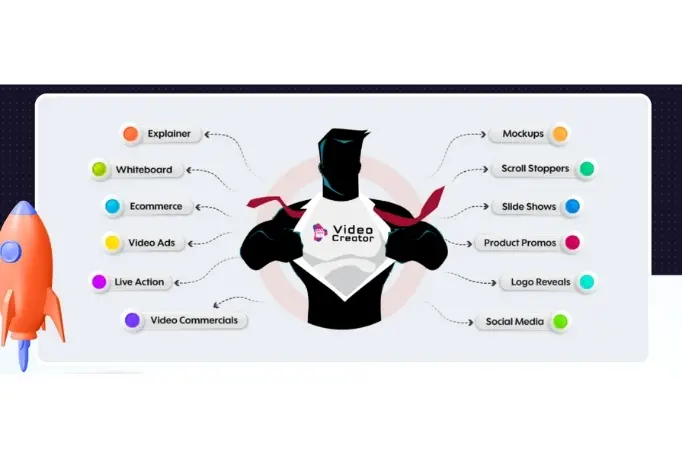 You can create and render unlimited videos and even have commercial rights to sell to clients, just like Create Studio. Some of the best features of the videocreator.io are the following:
Create Awesomely:

Product videos
Instagram stories
Marketing videos
YouTube videos
Explainer videos
Whiteboard videos
Logo Reveals
Animated videos
Video mockups
Scroll stopper Social Ads
E-commerce videos
And much, much more.
Unlimited render videos
720P HD Videos
Hundreds of Ready Templates
Multi-language support
Copyright-free images, videos, and mp3 music
A commercial license so you can sell to clients
Save time and money
No Restrictions
You can also upload your media.
Cloud-based app
These are some of the best features of the platform. You can use these and other features to grow your audience, increase organic traffic, brand awareness, etc. 
You can get videocreator.io for just a $49 one-time payment. For further details, check videocreator.io.
Doodly:
Doodly is perhaps the most-known animated video maker in my today's list of animated video software. Doodly is specially designed for whiteboard videos. So, you can create a different types of whiteboards with it. Some of the features of Doodly are the following: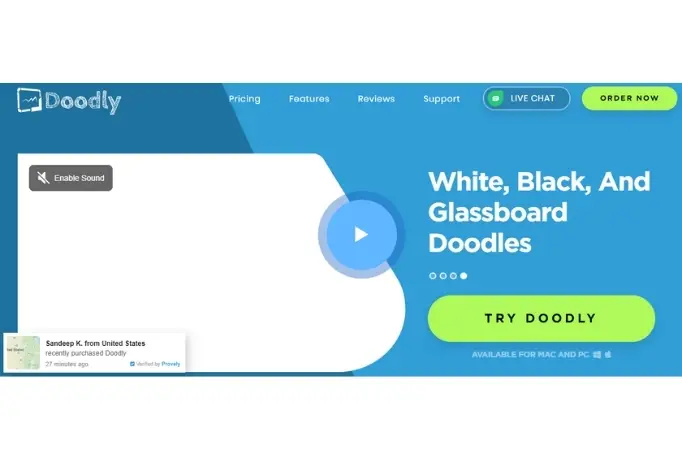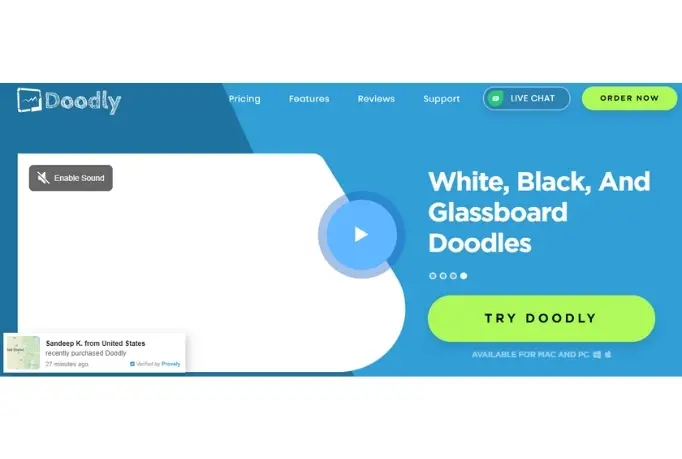 Simple Whiteboard animation software
Create awesome doodles within minutes
3 Doodles available: White, black, and Glass
Create professional and realistic whiteboard videos
You can use Doodle for:

Social media
Sales
Explainer video
YouTubers
Training and teaching
Facebook advertising
Inspiring and fun videos
And much, much more. The limit is your imagination and creativity.
You can also make green screen animations
Different hand types
You can do voiceover directly within Doodly and sync with your sketches with a button click.
You can install Doodly on as many computers as your want. No limitations.
Free software update
There are two packages of Doodly: Standard and Enterprise. You can save up to 49% for an annual billing plan. The standard plan costs $20 per month (Yearly plan) while Enterprise costs $40. There is also 30 days money-back guarantee.
Doratoon:
Doratoon is the new animated video maker software in the world of animated video maker software. As it is new, there has to be something special that convince users to use Doratoon instead of other animated video makers. Doratoon completely understands this and exactly giving more value to users.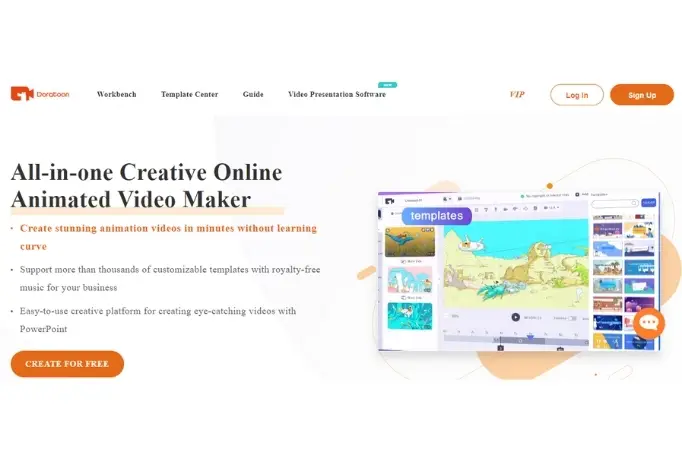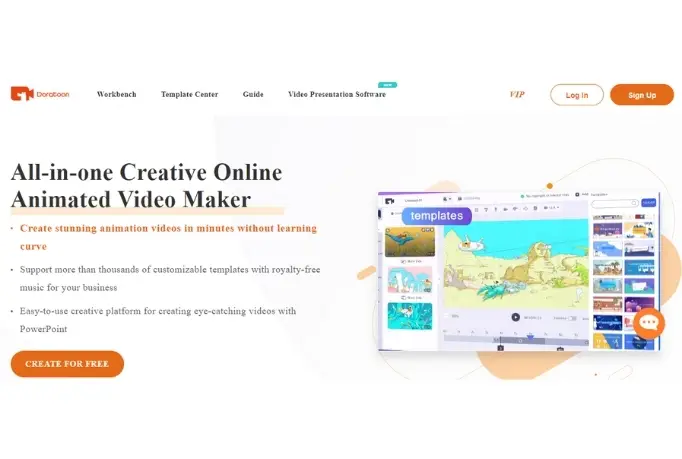 You can either make animated explainer videos on the cloud platform and can also download video presentation software to make an awesome presentation with your video. Some of the best features of the Doratoon are the following:
Free and VIP plans are available
Create stunning and beautiful animated videos within minutes
Easy to use platform
Thousands of customizable templates
Royalty-free music and other stuff
Create:

Personal achievement presentation
Company event video
Baby memory album
Travel diaries
Marriage proposal
Mini-courses
Marketing and promotional videos
And much, much more.
Animated characters
Artificial Intelligence (AI) Dubbing
Smart subtitling
Convert PPT to videos
Video Presentation Software
30-Days Free VIP Trial
For further details, check Doratoon.
Wideo:
Wideo is the last animated video maker software on today's list. You can create stunning animated videos and presentations with Wideo. It is an alternative to Powtoon and Animoto. Some of the features of the Wideo are the following:
Wideo is the best for:

Marketing Professionals
Startups
Businesses
Content Creators
And so on.
Create animated videos and presentations online
Upload your own assets or use the copyright-free material within the platform
Choose a suitable template and create awesome videos within 5 minutes
Intro and Outro animation effects
Custom animation
Precise frame accuracy
Scene transitions
Vertical and Square videos
Make videos from scratch if you don't find a good enough template
Save favourite scenes
Huge library of Graphics
Customize branded colors
100+ fonts library
Music library
And much, much more. You can create any video you can imagine.
As far pricing is concerned, there is an offer on Appsumo. So, if you buy directly from Wideo's website, then the basic plan's annual bill will be $228 per year compared to app sumo, where you can get the same plan for $59 and that also for a lifetime. I would definitely go with wideo appsumo's deal as it saves hundreds of dollars.
If you want to buy the Wideo Appsumo deal, then you can do so by clicking on the following button. It's an affiliate link which means that if you get an awesome deal, I will also get some commission. So, it's a win-win for both of us.
Conclusion:
I have mentioned and discussed the five best animated video maker software that can be helpful in making animated videos within minutes. However, there are many others as well. 
If I give you my honest opinion, I believe that Create Studio and Wideo are the best options on the list. They have everything but don't compromise on anything. So, whether you want to make sales videos, marketing or product videos, logo intros and outros, etc., you can go with either of these animated video maker software. I promise you will not regret it. 
If you are a businessman, freelancer, or digital marketer, then you will definitely need apps that will make your life easy. Right? Check out the best, most popular, and must-have mobile apps.
Related Questions:
What is the best free animated video maker?
Powtoon allows you to create free animated videos. However, one of the disadvantages is there will be Powtoon branding on the video which means you can use it only for practice and not commercially.
What are the 5 types of animation?
The 5 types of animations are:
Stop Motion
2D
3D
Traditional Animation
Whiteboard
How can I make my own animated video?
With the latest animated video maker software, creating animated videos is very much easy. You can create your own animated video within few minutes. 
First, select a powerful and best animated video maker that offers multiple features. You can consider Create Studio or Wideo from the above list. Then make a script of how it goes. Use your own media assets, or you can also use copyright-free assets if offered by the platform. 
Add animated characters, text, music, and check the timeline if everything is fine. Once you satisfy download it.