Hexomatic is an automation software that allows you to make your web scraping easy and efficiently. Time and resources are the two basic tools for content creators and big businesses. The biggest bottleneck in the profession is when you acquire a lot of opportunities, but fail to achieve the desired revenue. You don't have the power to run a business because of the shortage of time and resources, even though you have great ideas.
What if you were able to tackle the internet to get fantastic content with just one click on an automated platform? There will be no code and no hiring process! You can just put together Lego-style blocks to produce the perfect, high-quality work and can automate the task monotonously.
Hexomatic:
Hexomatic is a tool for professionals. It is estimated that sales, marketing, and research teams typically spend a lot on manual and repetitive tasks. Wouldn't it be great if there is a way to scale down this time-consuming task? 
Now you can! Meet Hexomatic! The no-code web scraping tool!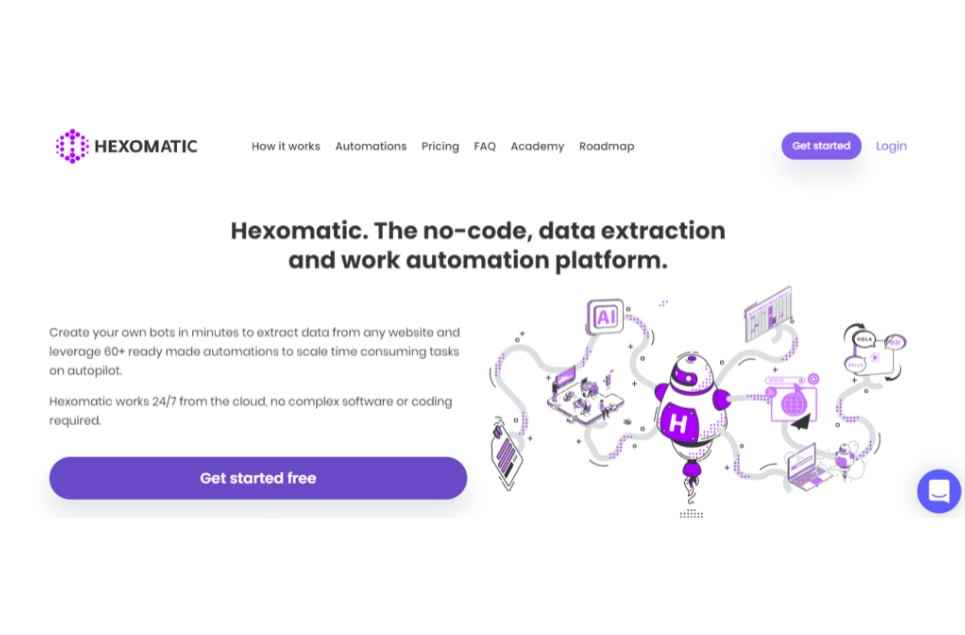 Hexomatic is an extensive work platform that allows you to collect data and facts by scraping websites with the help of scraper recipes in seconds. It is a web scraping platform that can use off-the-shelf automation and software packages that scale the chores quite easily.
You can maintain superb workflows for your team members when you are able to grasp the ability of artificial intelligence and the sagacity of a large crowd. If you don't want to use the complex codes for extracting data from the internet, then stay here. I'm going to explain its working and main features!
As we are talking about coding tools, there is another software/ website builder that can build websites with artificial intelligence tools. If you want to collect more leads for email marketing and sales funnel, then you also need a beautiful visual page where you can collect emails from people. You can build one with Zyro, which requires no coding knowledge.
Working Of Hexomatic:
It is the easiest cloud-based, web scraping platform out there. With the 60 ready-made workflow automations to choose from, you can find and contact detail, discover text, and more in just a few clicks.
There is even an ad on providing discount access to third-party services like residential proxies or SEO data. You can create your own web scraping recipe in minutes to capture data from any website and no coding is required.
It allows you to click on any element to access the data you need quickly and easily. You can also save the results in a spreadsheet or Google sheet. It's a great way to grow leads or capture product data like never before. Now is the moment you feel like waiting for! Yes, the workflow automation process!
With hexomatic, you can tap into ready-made workflows or design your own recipe or automation to form tasks. On the right side, you will be able to see tools featuring all the automation in scraping recipes. They can be added to your workflow. Once you have made your selections, click on run now.
Features Of Hexomatic:
Hexomatic provides you with top features described as follows.
Growth Hacker:
The eventual growth hacking policy nowadays is hexomatic in which you can create your own web scraping recipes. You can even amalgamate 25+ automation in order to enable a high-quality workflow. This data scraping tool allows you to enrich the data and scale the task.
Prospecting or B2B Lead Generation:
It's a hard and time-taken process to find fresh prospects in today's world. Hexomatic eases your life in the following ways:
With hexomatic, you can easily find leads in any niche as it scrapes Google search and Google Maps with the help of preliminary search frameworks. Hexomatic has the potential to enrich the data by drawing out email addresses and social media profiles.
It detects the tech stack and gets the details of WHOIS. It can also access the traffic sources and their metrics to provide filtration and leads.
E-Commerce:
It is a tedious process to obtain fresh data about different products from ecommerce sites. Now, you will be able to scrape the entire ecommerce website with the assistance of hexomatic. It's your choice whether you select to scrape data one time or on a scheduled saving data to CSV. 
It includes all the images, pricing, and descriptions. You can even sync to a Google sheet and enjoy!
Marketing Ideas:
With hexomatic, you will be able to find marketing ideas or new products by scraping Google at scale. Google sheets and Google Translate allow you to circumscribe your marketing materials, ads, banners, or websites. Creating funnels, writing and running an ad campaign is never easier than now with Hexomatic.
SEO Meta Tags Extraction:
Now, you will be able to scrape websites and be able to determine backlink opportunities. With hexomatic Engine, you can extract meta tags at scale through growing leads or grasp a meta tags scraper. You can do it with a list of pages.
Data Enrichment:
From most websites, you can even capture the data at scale by forming your own bot. You can enrich the data with 25+ off-the-shelf automation.
Web Page Screenshots:
From mobile handsets to 4K desktop sizes, this web scraping tool can produce web page screenshots at scale. You can also review it as hexomatic is able to save the URLs in a CSV or Google sheet.
Hexomatic Software Best Suited For:
This data scraping tool is best for the sales and marketing teams that work mainly on internet research. The members highly benefit from hexomatic software that can automate time-taken tasks easily and efficiently.
It is also useful for individuals like freelancers, content creators, etc. who need more data and leads for their businesses and services.
Alternatives:
Hexomatic is the best alternative to the following tools:
Texau
RTILA
Phantom Buster
Webscraper.io
Apify
Pros & Cons:
Pros:
Simple and streamlined
It is adaptable
Offers a wide range of options
Useful software to create a web scraping recipe
Saves money and time
Tech support
Quick and responsive
Ease of use
High-speed automation
Point and click feature
Great tool for scraping email address
Essential for SEO work
Frequent updates
Cloud-based
Work 24/7 from the cloud
No complex coding required
Cons:
Don't do social media stuff
There is no Pabbly integration
Lack the feature that removes duplicates from Google sheets
Pricing:
Hexomatic software comes up with these pricing plans. Let's discuss!
Bronze:
$24 per month
It contains all the benefits of Free
It has 2000 automation credits
It has 5 workflows that run simultaneously
It has scheduling patterns
It has access to premium automation and residential proxies
Silver:
$49 per month
It contains all the benefits of Bronze
It has 4500 automation credits
It has 10 workflows that run simultaneously
It has advanced integration
It can produce your own automation recipes
It has data center IP rotation
Gold:
$99 per month
It contains all the benefits of Silver
It has 10000 automation credits
It has unlimited workflows that run simultaneously
It possesses API
Premium Credit Add-On:
$4.99 per month
Google translate and deep
Google maps data
Enriched emails
Analysis of traffic
Residential proxies
Data from amazon
Crowdsources task
SEO backlinks
Hexomatic Lifetime Deal Review:
Hexomatic lifetime deal or Appsumo deal terms facilitates you with the following:
Anyone can get lifetime access to hexomatic
It possesses all future plans update
You can save the code within 60 days
It can stack unlimited codes
Get $10 off on your first purchase on Appsumo
Each code adds 5000 automation credits per month
It has GDPR compliant
It offers a 60-day money-back guarantee
The question here is, how are you going to spend extra time? If you want to automate your time-consuming task, get a hexomatic lifetime deal today before it goes!
License Tiers:
| | | |
| --- | --- | --- |
| Single (Code 1) | Double (Code 2) | Multiple (Code 3) |
| $98 | $196 | $294 |
| Contains all features of the Silver plan | Contains all features of the Gold plan | Contains all features of the Gold plan |
| Possesses 4500 automation credits monthly | Possesses 10000 automation credits monthly | Possesses 15000 automation credits monthly |
| 10 running workflows | Unlimited running workflows | Unlimited running workflows |
| All other features included | Acquires API | Acquires API |
| | All other features included | All other features included |
Final Verdict:
Hexomatic is a great web scraping software for the escalation of getting information from web pages. You can share the created report with clients or workmates. With hexomatic, you will be able to create your own website and add it to your page.
It provides you with no code data extraction tool and you can build your own reports and websites. The group of human assistants will be delegated to you when you can use the readymade automation.
Hexomatic saves time, saves money, and also automates your daily task. The Hexomatic lifetime deal facilitates multiple opportunities too. So, you should not miss out on an amazing Hexomatic lifetime deal. Get from Appsumo today!!